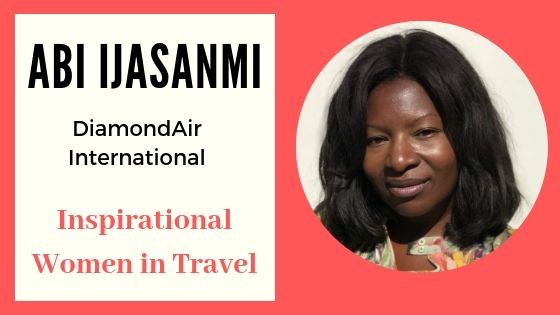 For our latest blog we speak to Abiola (Abi) Ijasanmi who is Director | Legal & Corporate Affairs at DiamondAir International. Below she tells us about her experiences in the industry and how she got to divider her time between the UK and Ghana.
What inspired you to work in the travel industry?
I sort of fell into the industry. I'm a Lawyer (a trained Barrister) and a former Sports Agent, so I was initially asked to come onboard as a Consultant advising the company on a range of matters including agreements with global suppliers and airports. I loved the fact that it was a boutique business in the luxury travel space and that the business had carved out this unique space. It was a totally new direction that presented me with the opportunity to develop my skills in areas such as compliance and corporate governance.
How did you begin working in the travel industry and what was your first role?
About 18 months into the Consultancy arrangement we'd managed to manoeuvre the company into a really good position. We'd moved offices to allow the growth to continue and I was offered the opportunity to head up the Legal & Compliance Team. So much was happening in the industry at that time, but because we don't sit neatly into a travel industry box, we had to carve our own way through and set the standards (protocols, procedures and terms of business) of which most of the concierge industry follows today.
How did you get to where you are in your career today?
I took the 'unconventional route' that's for sure! I left school at 16 with a basic set of qualifications and after working in several different Sales roles before I spending some time living and working in the US and Paris. I decided to go back to university to study Law and Marketing and was introduced to a Basketball Agent and that's where I found my passion. I started with the agency in my final year and I would place basketball players who weren't going to be drafted by the NBA, into leagues all over the world. I had clients in Italy, France, Lithuania, Lebanon, Turkey to name a few. I didn't know the game, but I could sell and I learnt the game on the job. I was one of the only two women in the business in Europe, so I worked like crazy to establish myself.  I saw a gap in the market for representing female players and the agency allowed me to set up women's division. I went on to study for my Master (LLM) in international commercial law, had my son and then went back to study for the Bar. The agency eventually relocated to the USA, I went on to qualify and work for several companies in the international trade space. I still have a passion for professional sport and believe or not there are so many similarities with what I do now.
What attributes would help someone aspiring to your role?
I would say; will power, self-reliance and communication
Describe a typical day at work in 100 words?
I'm currently based out of Accra in Ghana and we are 1 hour behind the UK. So, my working day typically begins around 7am.  I oversee Legal & Compliance, HR and our expansion into Africa. I'm also one of 2 Directors for the company, so there are many moving parts. For example, this morning I'm making last minute preparations for an event I'm speaking at in Dubai next week, I'm working on a tender for a US airport and a license agreement for another airport, but I could be working with a combination of clients, airports, suppliers, auditor or Consultants throughout my day.
What is your most memorable moment working within the travel industry?
I think it would have to be meeting Donatella Versace [the Italian designer and fashion icon]. I'm not star struck, but that was a real experience!
What has been the biggest challenge you've encountered in your role and how did you overcome this?
I think the biggest challenge has been establishing standards in a niche sector where we are leading the way. We operate in the airport space, which is heavily regulated on several levels. We also work with suppliers globally, so trying to provide the same high-end service in every airport is my biggest challenge. Trying to get a small supplier in Zanzibar to agree to take out a minimum £5m public liability insurance or a supplier in Russia to accept our data protection expectations is a big part of my team's role. It's all about mitigating risks for our clients.
What drives you to succeed?
It's part of my makeup. I've always been pretty fully-on and driven. It's also satisfying to know that our VIP clients, who expect and are used to the best, continue to come back to us.
What would be your top three tips for women who are interested in starting a career in the travel and tourism industry?
Do it
Find the space that works for you and
Enjoy it
What one change could help more women become leaders in the travel industry?
For women in leadership positions to give them a step up.
I'm a huge advocate of supporting women through the different stages/changes they go through during a career. From student, to early career, family to the experience maturity offers.
How do you relax when not working?
I like to travel, not necessarily for me, but I like my son to experience different cultures, environments, ways of life. I'm up for anything that offers me the chance to enjoy good food and make memories with family and friends.