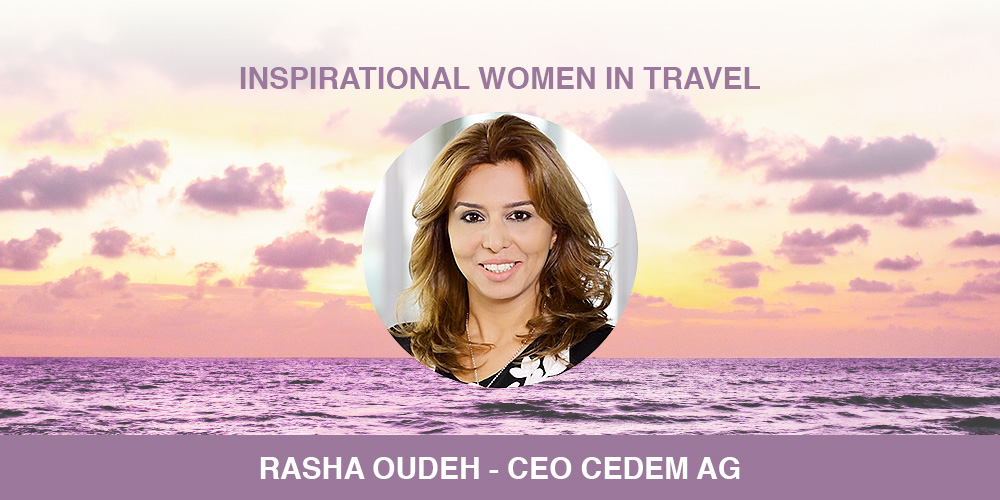 Rasha Oudeh is a Jordanian entrepreneur who has worked in the pharmaceutical field since 2007. Rasha now serves as CEO at CEDEM AG, a Swiss manufacturer and supplier of healthcare and pharmaceutical products.
Strictly speaking Rasha's business is not in travel & tourism, however we are delighted to feature Rasha on our blog, because she is indeed supporting the travel and tourism industry through her range of cosmetic products AMAL that are based on Dead Sea Salt; because through these products she fights poverty in Jordan and provides economic empowerment to Jordanian women and – last but not least – because she is supporting Women in Travel at ATM 2019.
Here she talks about her business and also her passion for socially minded entrepreneurship.   
1. What inspired you to launch your business?
I founded my first company in 2007 in Germany and I think the reason for launching was the financial need – sometimes one has to starve in order to start! In 2015, after I learned and earned a lot, I seized CEDEM AG in Switzerland. I was inspired by the passion to make something unique in the Middle East by owning a Swiss brand.
2. How did you get to where you are in your career today?
It was only possible by getting out of my comfort zone and sustaining self-learning. I also learned a lot from other people who worked with me, with each one adding something new to my journey.
3. What attributes would help someone aspiring to have their own business?
Keep focused; avoid using people as a bridge; get out of the comfort zone; believe in yourself despite any frustrating opinions; give back; enjoy love and forget about fears.
4. Describe a typical day at work in 100 words?
I think entrepreneurs are programmed to succeed and be achievers. Each morning, I wake up very early between 5 and 7am, it's my time to portray my dreams. Sometimes I speak with myself for a while then I pass through some news. From 9-5am Middle East time, I am always busy pursuing our sales & logistics office in Jordan, which conducts the business in the Middle East. After 5pm, I start addressing other issues. I then take part in sport, networking, social activities and prepare the work list for the next working day. I go to sleep at around midnight.
5. What has been the biggest challenge you've encountered in your role and how did you overcome it?
I faced many challenges… let's say a thousand. Every day, I get surprised if there isn't a problem! But the biggest challenge is convincing men in this business to accept me, trust me and deal with me on an equal footing. Gender equality is very rare in this business. Of course, there are millions of ladies working in the pharmaceutical field but very few of them are international pharmaceutical traders with their own business.
6. What drives you to succeed?
It's not about success. In my opinion success is really a journey which I can say I passed part of it successfully. The encouraging smiles that I see on the faces of my parents, brothers and sisters, employees, friends and colleagues when I achieve something gives me more determination. My passion and love for the CEDEM brand drives me to work even harder and to fight against all odds.
7. What factor / person has been more important to your success?
It's my passion to build a new international brand. Many people have been important, especially my investors and my team. My mentor also contributed to my success. He's a successful businessman with very big pharmaceutical business. However, it's not about what he taught me, but the encouragement I received from him during the journey.
8. Would you name one change that could help more women become leaders in business?
Don't be afraid; fears are the biggest obstacle to succeed.
To know more please check www.cedemag.com