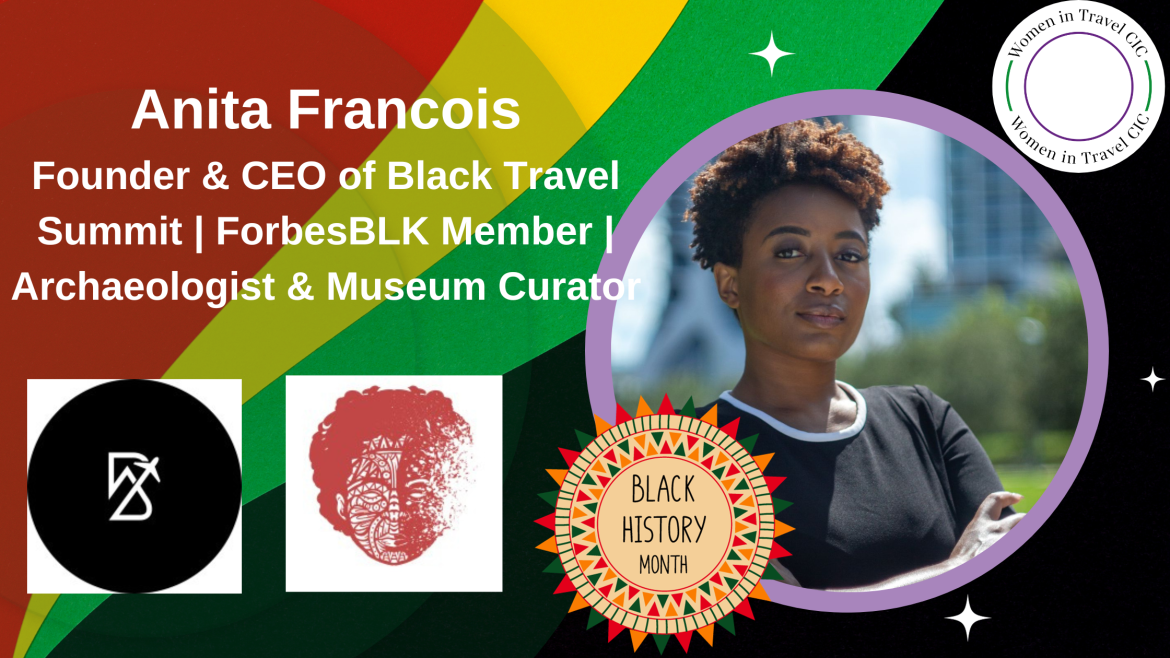 The inspirational and motivating story of Anita Francois is a great reminder for everyone out there to pursue their dreams and passions. Anita joined our Male Allyship Network  Programme in Cohort 3 2023 through our Corporate Ally – WeTravel. She says it loud and clear that DEI matters here and now and the way forward is through action.
Can you share a bit about your personal journey and what inspired you as a leader in your industry?
From the age of 7, I've had a passion for travelling. Over the years, I travelled to more than 30 countries and immersed myself in the cultures of each country I visited. As a Black person, I took a particular interest in the African Diaspora around the world. I would often find myself intentionally highlighting their presence to friends, family and social media. Fast forward to 2014, I graduated with a Master's in Archaeology and moved to Miami, FL, USA, where my father lived. I began my career in the museum field and soon after stumbled upon the Black travel movement, where I felt I finally found my tribe. The movement inspired me to research Black-owned businesses and entrepreneurs in travel, which eventually led me to establish the Black Travel Summit intended as an ecosystem to nurture these businesses and individuals and act as a bridge between them and brands.
What do you consider to be your most significant achievement, and how do you feel this achievement has impacted or influenced the broader black community? 
Black Travel Summit is my most significant achievement. After every event, the feedback I receive from brands, entrepreneurs, business owners, etc., keeps me going. Comments like "This experience has changed my life," and, "I've made connections here that I would have had trouble establishing on my own," allow me to know the impact that this brand has on people.
Can you talk about some of the challenges you faced on your path to leadership, and how you overcame them? 
As a startup, our challenges have been the same as other startups, and then some. As a Black business, we've had difficulty raising capital, convincing people of our worth and why an event like this is important, and finding a team that believes in the vision. Having our biggest sponsor, Hyatt, on our side has convinced other brands of our value, and once attended, the experience speaks for itself.
What advice do you have for black individuals aspiring to become leaders, especially in the face of adversity? 
Keep going! If you have something you're passionate about, let nothing deter you. You will find a person who believes wholeheartedly in what you're doing and will help you to succeed. Whether financially or just by putting in a good word for you, it's okay to receive help. Many of us haven't, and so we either feel we don't deserve it, or that we're weak if we do ask for help. Just remember that many successful people have received help in one way or another.
How do you think the conversation around diversity and inclusion has evolved during your time as a leader? 
Where it still exists, it has become more intentional and a part of many brands' company ethos and not just a thing under HR. Many have wavered from the conversations, but those who have not, have become stronger and more impactful, not just for Black people, but for diverse people in general.
What steps do you believe are crucial in promoting diversity and inclusion in your industry? 
Be intentional – you won't get far without a true desire to make an impact.

Be unwavering – you WILL receive backlash for your commitment to DEI, it's just a matter of when.

Be humble – realize that you cannot do it alone and seek assistance with putting your best foot forward.

Be committed – once you've achieved your personal/company goal, stick to it. Don't be considered a follower of trends, but a hero for sticking to your DEI commitment.