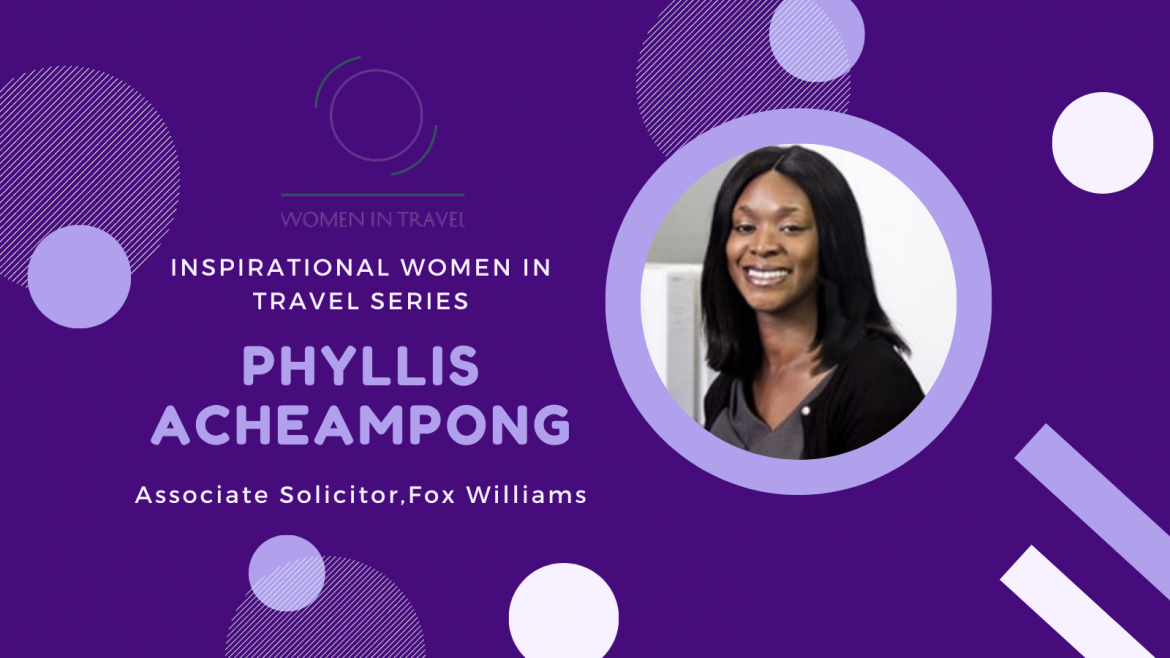 For this weeks Inspirational Women in Travel blog, we sat down to have a chat with Phyllis Acheampong, Associate Solicitor of Fox Williams. Take a look at what she had to say
What is Fox Williams and what do you do?
Fox Williams is a small city based law firm. It is a very friendly and warm environment to work in with a real focus on people. I am a commercial lawyer and I sit within the Travel Group, which is part of the Commerce and Technology team. I spend most of my time advising our travel company clients about the travel regulatory requirements in the UK and other territories.
What inspired you to start a career in law?
I was initially attracted to the justice aspects of the law, and the idea that the law could be used to help people enforce their rights or improve their lives and businesses. Later, I was attracted to the more commercial side of law and how it was crucial to helping businesses grow and establish themselves.
How did you get to where you are in your career today?
It was such a long struggle with many setbacks and obstacles – personal and professional. It took me 16 years to qualify as a lawyer. It usually takes people on average 6-7 years! It was a combination of a few things in the end – stubbornness, determination, perseverance, hard work and the support, encouragement, and championing of many influential people along the way. Networking and making a good impression are crucial in the climb up!
What attributes would help someone aspiring to work in your industry?
Sheer determination and hard work. Research and diligence are also hugely important.
Describe a typical day at work in 100 words?
These days, it will be a combination of reading and responding to emails from clients or local lawyers in other countries, considering the client's issue and how we can assist them, providing and drafting advice or taking calls with clients to discuss next steps. We also draft reports and assist the client in resolving regulatory issues or contentious matters with suppliers or consumers.
What is your most memorable moment at Fox Williams?
My recent efforts to set up and participate in the Reverse Mentoring Programme which provided a platform to junior lawyers from Black and Asian backgrounds to meet with and discuss their experiences with the more senior, exclusively white and upper middle-class Partnership Board.
What has been the biggest challenge you have encountered in the industry?
That despite many efforts, it is still one of the most elitist professions and it is still very difficult to "get in", stay in and succeed unless you are from a very particular background. We have started to see some changes but not enough.
How has COVID-19 affected Fox Williams and how have you adapted and responded to the challenges?
Yes, we now almost all exclusively work from home and it has become increasingly difficult to interact with colleagues and clients in the same way. I think Microsoft Teams and Zoom have been great tools which have allowed us to keep up with each other, and at least maintain virtual visual contact. Fox Williams has been particularly good at keeping us informed about policy developments and creating opportunities to keep in touch with colleagues socially and to also look after our mental health.
What drives you to succeed?
I am looking for ways to honour my parents and the hard work and sacrifices they made to ensure that we had better lives than them. Legacy is also important – in turn, I would also like to ensure that the next generation of my family deals with less hardships than me.
What would be your top three tips for women who are interested in working in your field?
Network, network, network! Building contacts is so important and just propels you forward much more than any other action you may take.
Research the practice area you are interested in thoroughly and get work experience in that area to find out if you could really work the long hours in that field and actually enjoy it!
Mentally prepare yourself for a long and hard journey to qualification – you will need to be confident, determined and focussed.
What one change could help more women become leaders in their industry?
I think we need to believe in ourselves and abilities and what we bring to the table a lot more – we are mostly thoughtful, considerate, empathetic but also great decision makers, multi-taskers and we get things done!
How do you relax when not working?
I love reading fiction and nonfiction or watching a good factual documentary on anything really, but especially different human experiences. If there were no Covid restrictions, you would catch me at live music events, the theatre, a good modern art exhibition, the cinema, eating out, at a Black History seminar or volunteering to support the elderly and vulnerable.