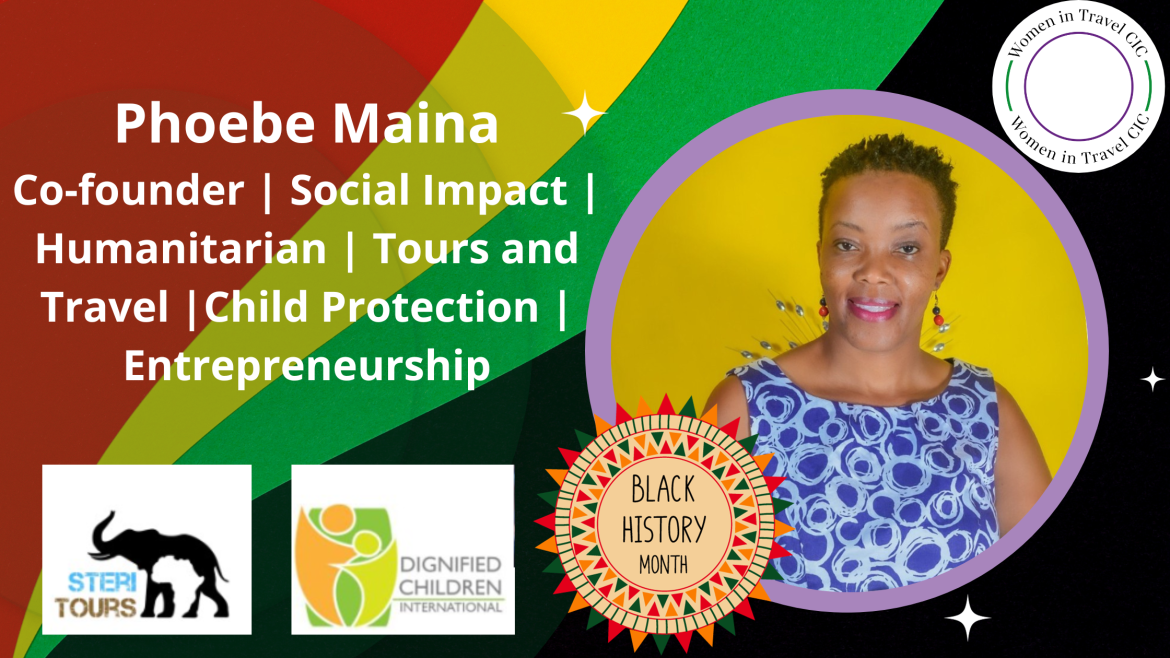 At Women in Travel CIC, our dedication to Diversity, Equity, and Inclusion are the key pillars of our work which extends beyond Black History Month. To specifically honour Black History Month in October and celebrate talented, bright and forward-looking women and non-binary individuals, we highlight the achievements of black women and promote racial equality.
Phoebe (Muthoni) Maina is our community member who took part in the Male Allyship Network Programme in Cohort 2 of 2022/23. In the Blog below she shares her personal journey, commitment to the Travel industry, inspiring other Black women in her community and overcoming challenges that led her to thrive and aspire to open doors for others.
Can you share a bit about your personal journey and what inspired you as a leader in your industry?
My journey into tourism weaves a tapestry of passion, purpose, and a profound yearning for change. A decade of navigating the development sector unveiled the potential for positive impact. But it was a vision of vibrant, empowered communities through tourism that kindled my fervour. I aimed not only to create income but also jobs for youth—envisioning places where dignity, culture, and the environment harmoniously coexist. This vision guided me to create Steri Tours and Travel.
My leadership inspiration stems from the belief in transformative travel experiences. We showcase local culture, and heritage, and promote responsible tourism, offering unforgettable memories while uplifting livelihoods. My journey is a blend of ambition, compassion, and heritage preservation—a promise to create a better world through tourism. What inspires me is the belief in travel's transformative power, community resilience, and the beauty of preserving culture and the environment—one Steri tour at a time.
What do you consider to be your most significant achievement, and how do you feel this achievement has impacted or influenced the broader black community?
My most remarkable achievement is the inception of my travel business during the tumultuous height of the COVID-19 pandemic—an endeavour that demanded an unwavering leap of faith. While the world grappled with uncertainty, I saw an opportunity to not only survive but thrive by inviting international travellers to explore the beauty of my homeland.
But the impact of this achievement extends far beyond my own entrepreneurial journey. It has become a beacon of hope and inspiration within the broader black community. My decision to forgo seeking traditional employment in favour of pursuing my travel business was a testament to the power of self-belief and the courage to manifest one's vision and a reminder that our visions have the power to shape a brighter future.
Moreover, as my travel business flourished, I made it a point to extend my success to other young women from similar backgrounds. By creating job opportunities for them, I've shown that with determination and a belief in their own visions, they too can break through barriers and contribute to the broader black community's prosperity.
What advice do you have for black individuals aspiring to become leaders, especially in the face of adversity?
Rise up, show up and make it count. This is the mantra that keeps me going in the face of adversity.
Can you talk about some of the challenges you faced on your path to leadership, and how you overcame them?
My journey to leadership was not without its fair share of challenges, but I firmly believe that challenges are simply stepping stones to success. One of the most pressing hurdles I encountered was the struggle to secure capital to sustain my business during the challenging times of the COVID-19 pandemic. However, amidst this adversity, I identified a glimmer of opportunity in the form of a tourism recovery fund. I decided to take a chance and apply for the grant, and I'm delighted to say that my determination paid off as I emerged as a grant recipient. This crucial injection of funds not only kept my business afloat but also propelled it forward.
Another significant challenge was marketing my business effectively. In response, I embarked on a creative journey to entice people out of the city. I conceptualized and introduced a novel offering called 'Entrepreneur Workcation' trips. These specialized trips not only provided a break from the urban hustle but also brought together like-minded entrepreneurs in our beautiful country's scenic destinations. It allowed them to bond and share their challenges, creating a unique and valuable experience.
I also organized 'Mumcations' and 'Girls Picnics,' events designed to unite women, foster connections, and build a sense of community. These initiatives not only increased the visibility of my business but also championed the empowerment and enrichment of the women who participated.
In summary, my journey to leadership was marked by challenges, but I saw them as opportunities in disguise. I leveraged my resourcefulness and determination to secure funding through a tourism recovery grant, and I creatively redefined my marketing strategy through unique travel experiences, ultimately contributing to the success and visibility of my business.
How do you think the conversation around diversity and inclusion has evolved during your time as a leader?
Over my tenure as a leader, I've witnessed significant progress in the dialogue surrounding diversity and inclusion, though there's still much ground to cover. We've transitioned from surface-level discussions to more candid conversations on these vital topics. Importantly, we're now actively taking intentional steps to empower individuals from diverse backgrounds to take leadership roles within the industry.
What steps do you believe are crucial in promoting diversity and inclusion in your industry?
To foster diversity and inclusion in my industry, we must expand the canvas for discussions, amplifying the voices of individuals from diverse backgrounds. Crucially, we should provide them with opportunities to take the lead in these conversations and spaces.
Connect with Phoebe: https://www.linkedin.com/in/phoebe-maina-3aaaa18/
Steri Tours: https://www.steritourske.com/