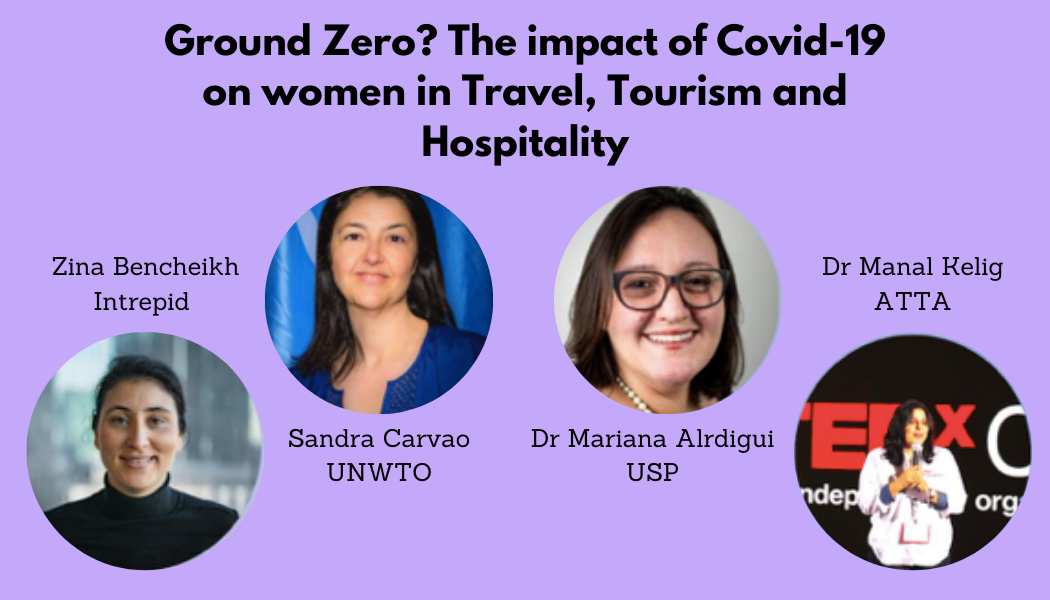 On Thursday, the 28th of May, we ran our second webinar on the impact of Covid-19 on Women, focused on the Travel and Tourism industry. The webinar was moderated by Zina Bencheikh, newly appointed MD EMEA at Intrepid, Dr. Mariana Aldrigui from the University of São Paulo, Sandra Carvao with UNWTO, and Dr. Manal Kelig from ATTA.
The webinar provided plenty of thoughtful insights into global and regional issues affecting women during the crisis and most of all gave panelists and audiences the opportunity to reflect on  the role women must have in the recovery and future development of the industry.
SANDRA CARVAO 
100% of destinations are still closed around the world
UNWTO is planning scenarios, based on a gradual opening at the beginning of July. We still predict to be down overall by 60% in the year.
We expect recovery to be very gradual, domestic and regional travel will begin first and international much later.
This means 100 million directly at risk and many in the informal sector. So, we need to work with governments to support jobs directly.
International travel demand is very low – we know from past crisis that it will be several months and years before the recovery takes place.
We know that much of the employment in the sector is female. Naturally women are one of the sectors most at risks. If we are looking at some destinations that are dependent on international tourism such as small island states, then the impact is even greater.
On a positive note, we know that tourism is very resilient, and we also hope this will be an opportunity to discuss what kind of tourism we want for tomorrow.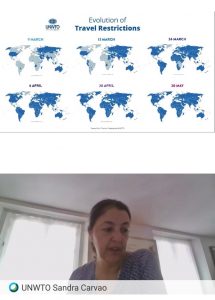 ZINA BENCHEIKH 
Newly appointed MD EMEA
Are we going back to ground zero for women? Heart breaking after years of talking about tourism as an empowerment tool for communities and women.
We spent many years focusing on creating empowered women through travel and tourism related opportunities. Since 2016 we focused on gender goals.
Sustainability is becoming even more important for us. We see the situation at destinations even more challenging now due to Covid-19 and the lack of support locally.
Our slides provide you with various examples of how we have supported women in communities and destinations and how this crisis has impacted them by taking away income and opportunities.
Most of these women live a very traditional lifestyle and can continue to do that thanks to travel and tourism. Now this has changed critically.
Covid-19 has impacted women even within our own company unfortunately.
I really hope this crisis is not causing Ground Zero for women empowerment.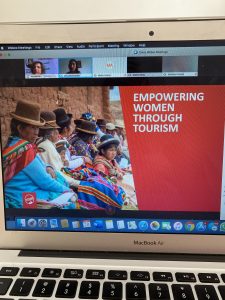 DR MARIANA ALDRIGUI 
We understand that it will be 5-6 years before we go back to pre Covid-19 level here in Latin America. Latin America will be the last region to recover. This is mostly because of the international connections and the political turmoil in the region.
Currently the crisis impacting women is critical in Latin America. Cases of domestic abuse lines have gone up by 52% just in the last 3 weeks compared to the same time last year.
Many women are currently trying to run their business while also doing most of the house chores, looking after the kids and sometimes also trying to support the husband with his.
Former Chilean President Michelle Bachelet has recently spoken about the need to have women leading the economic recovery. She stresses the importance of gender equality and the re-hiring processes, in trying to ensue women get back to work once they lost it.
ILO provides figures around loss of employment in Latin America and so many are in the informal economy and not accounted for. We see that it will be even harder for young women to find the job of their dream. It will take 10 years to go back to 2019 numbers concerning employment.
At least 30% of the workforce has now been let go from companies in travel and tourism and is likely to be female.
We are hoping that the federal government will help but the problem is smaller companies cannot offer the same level of guarantees to the bank.
What affects me the most is that my own students are now becoming disillusioned with the sector and are looking to move away from it, reconsidering their professional choices, which is truly sad.
On a positive note here are some examples of local initiatives led by women – so once again female leadership is key.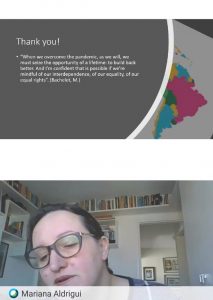 DR MANAL KELIG 
So important that we have female networks especially for owners of small businesses.
72 calls with small business owners in Egypt (50) and abroad (22) who were starting the new tourism season with great hope, but their financial and digital access was limited. With  Covid-19 they were already on their back foot, and working on things. Yet, in these calls nobody talked about their well being and mental health, which is worrying.
Government support is lacking in this region – no stimulus package to support companies operate and pay salaries – which is also problematic. This means 41 of the 50 businesses I spoke to have now closed!
Handicraft is hugely affected too especially as they are often part of the informal sector.
International aids are also not directed to tourism.
What will business and tourism look like in future? With ATTA we have identified several factors:

Digital / Online Experiences
Hygiene, non-negotiable!
Contactless operations (e-commerce will be critical)
No crowding, smaller groups
Care, not just for travellers but for the supply chain and communities
Value – we will be seeking from our experiences

However, it all remains very uncertain
Now, we must ensure women are part of the decision-making process, of the recovery process when we are initiating new itineraries, new value chains.
Questions & Comments 
How can we ensure women going forward will be a greater part of the decision-making process? 
ZINA: Companies are in survival mode and what we see is that diversity and sustainability may fall behind.
MARIANA: We need to ask international tourism organisations to include a protocol specific to gender
SANDRA: UNWTO sees gender as a priority and it has for several years with the SDGS. Covid-19 is a challenge to them as much progress will be now at risk but we have called on the governments to cater for vulnerable groups, including women, in support mechanisms. We also are calling to include women in management crisis systems, so that policies are gender informed. The other recommendation is the balance issue, as it is difficult to lead a recovery while taking care of everything else too.
MANAL: How do we include women from the informal sector? We need to work on the grassroot level otherwise all these industries and skills are lost, they need to be given more attention, so that they can also survive Covid-19.
Are there examples of good public policies? 
ALESSANDRA: Even looking back at earlier crisis there are few gender specific measures.
SANDRA: UNWTO has a dashboard on its website to identify all measures being implemented but they are mostly horizontal. The crisis should be an opportunity to highlight the level and size of the informal sector as they were serving the tourists, but they were invisible. More formality to the sector is needed.
What about the small entrepreneurs? Many women are solo traders, they relied on a handful of customers (large organisations) and now the supply chain has gone, how do we include these women again? 
ZINA: I just hope the industry will see the opportunity to become more sustainable, but really the consumers and travelers will hopefully push for this and the market will drive the change.
MARIANA: The new normal of staying home, looking after the kids means we should all be more understanding of women's needs. We must ensure that mothers still have jobs to go to. We also have a voice and must use it, for example I will not speak anymore on all males' panels.
MARIANA: When tourism comes back, I would like to see more women mentoring males. We need to use Covid-19 as an opportunity.
ALESSANDRA: As women will continue to make most decisions in the household concerning family travel and holidays, the hope is that we will use this power and unite to ask for the right products, to ask industry the challenging questions.
Take a look at their presentation slides linked here!