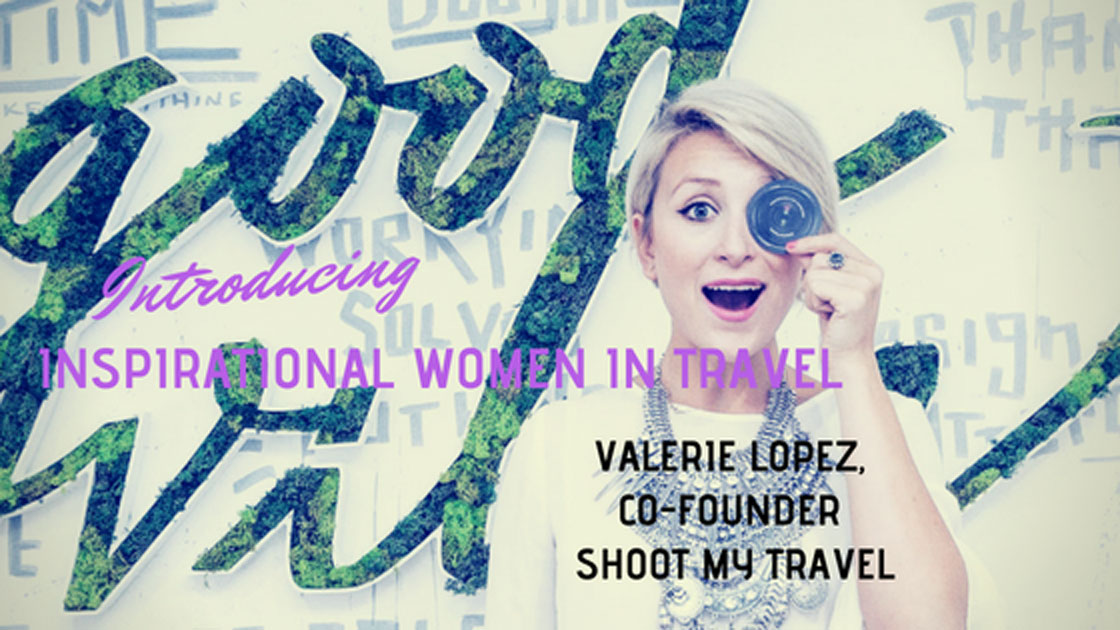 A new series of blogs/interviews with some of the most inspiring Women in Travel I have the pleasure to meet
Valerie Lopez Co-Founder Shoot My Travel
Valerie was born in Miami but was raised in Colombia. Here she tells Women in Travel about her journey as co-founder of Shoot My Travel.
Tell us about your business and what it is that you do and love about it.
Shoot My Travel is global travel photographer marketplace that pairs travelers with local professional photographers to capture your trip memories while you experience the city.
I'm the co-founder and CEO of Shoot My Travel, the vision, and heart of the behind company.  As a startup founder, I wear many hats on a daily basis and what I love most about what we do is that we provide jobs to thousands of photographers worldwide and give all travelers the opportunity to connect with a local and have the most memorable photos of their trips.
What are your views about women entrepreneurs – how easy or challenging have you found it?
I admire all women and especially those that decided to build their dreams and become entrepreneurs. It is not an easy task for any, but I do think it's even more challenging to be a women entrepreneur, we have to prove ourselves twice and juggle set actions we "can or can't do" because it will put our credibility on the line. In other words, we have to hustle harder to get our view out there and validated, but when we do, we do it better than anyone else!
As you are based in the USA and have also experienced the UK in recent months, what are your thoughts on entrepreneurship/female entrepreneurship in the two countries?
I think in both ecosystems there is a need to push forward as women and support each other. The idea that if one rises we all rise is vivid and palpable around you.  For some reason, I felt this a more actively in the USA due to our political circumstances, people are paying attention, brands know they will be held accountable, and we are slowly becoming more conscious and responsible. In the short time, I've been in the UK; I believe the ecosystem is a bit more developed yet progress has been slow in both countries.
What do you think is needed globally to attract more women to entrepreneurship?
Women need access in every aspect. Access to education, mentors, fund and an ecosystem that supports them.
As a successful woman in business, what are your top pieces of advice for other women starting out their own business?
Follow your intuition and gut feeling; it always has the answer.
Don't be afraid to ask questions.