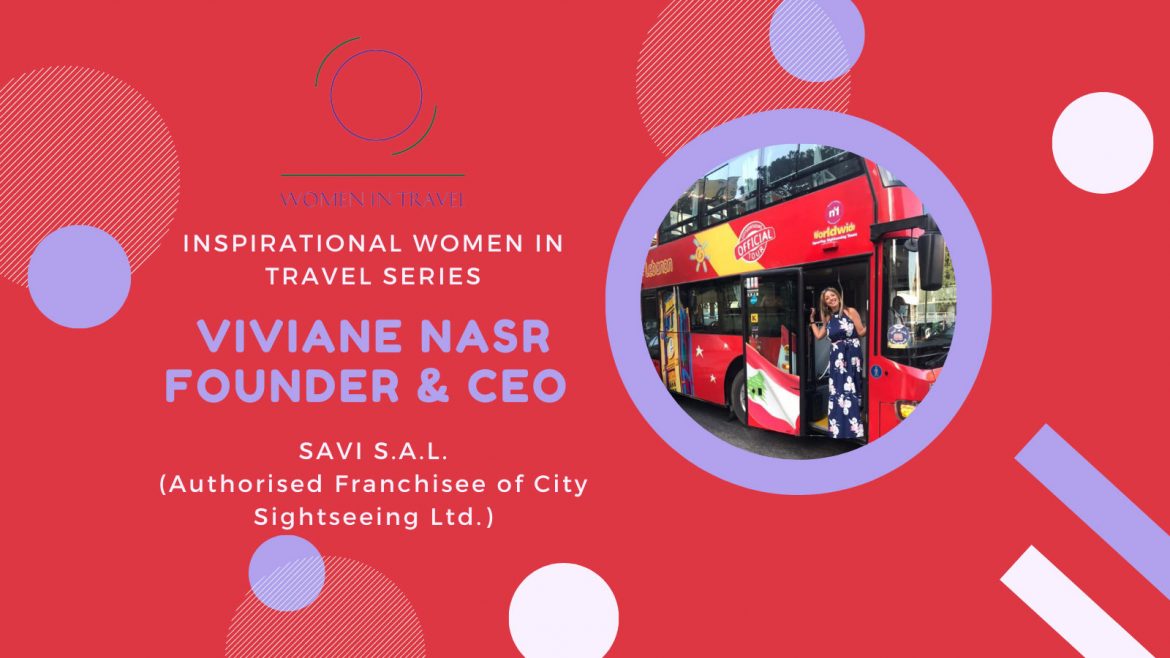 #1 Tell us about yourself and how you got into your travel and tourism business
I love to travel and each time, I used to buy a Citysightseeing ticket to discover the city and listen to the history through the audio commentary on board. It is the easiest way to explore the most important places in the city. I have always asked myself why we don't have this concept in Beirut specially that we don't have a good public transportation for the tourists to discover the city.
#2 You launched Citysightseeing Beirut in 2019 and so much has happened since…how did you manage to survive through this challenging time?
I launched Citysightseeing Beirut in May 2019, we were doing great and growing fast until October 17, 2019 when the Revolution started as the same time as the devaluation of the Lebanese Pound. We handled things until beginning of March 2020, when the pandemic started and hit the Tourism Industry worldwide. After the lockdown, in July 2020, I decided to create a new concept and to adapt to the actual situation in order to keep going. I stopped the hop on hop off, as long as we don't have tourists coming to Beirut, and started day trips all over Lebanon. It was a success because Lebanese couldn't travel anymore since the bank haircuts started end of 2019. Lebanese can't make any money transfers and can't use their credit cards to travel. They were so happy to travel with us inside Lebanon and explore its hidden gems. Then, came the Beirut Port explosion which destroyed our beautiful city, our office and our home. We thanked God we are still alive and we fix the damages in order to keep going for the love of this country. Since then, we are struggling to cover our expenses because of the pandemic and the second waves. To survive in this challenging time, we need to adapt and be prepared for the plan B.
#3 You are passionate about Beirut and Lebanon, why?
Beirut is a very beautiful city with lots of beautiful contrasts. From one side, you can see old traditional houses with red brick roof and next, a new iconic building with new architecture; from the other side, you can see the blue Mediterranean Sea and the green mountains with the snow on the top. A unique panorama in the world! Beirut has 6000 years of history; it has been rebuilt 7 times after wars and earthquakes. Wherever you walk in the down town, you can see a city under the city of Beirut.
#4 Tell me 3 things about the city that only a local like you would know..
Beirut never sleeps, it stays vibrant whatever happens.
Beirut citizens are all well-educated and speak at least 3 languages
Beirut is one of the most cosmopolitan and religiously diverse cities in all of the Middle East
#5 As you are relatively new to the industry, what attracted you to tourism and has the sector met your expectations?
Lebanon is a touristic country with lots of amazing historical sites. What the media shows to the world is a bad image of the country, the corrupted politicians, the bad economy, bad and dirty regions… I wanted to show the real Lebanon to the world and put it on the international map.
I met 50% of my expectations because people are impressed by our concept and services, they show their gratitude and their joy. But I want more than I realized and I know, I will meet my expectations by the end of the pandemic.
#6 What are your views of opportunities for women entrepreneurs and professionals in the sector in Lebanon?
There are many opportunities for women in this sector in Lebanon. Women work with perfection, with love and passion. Women give more than they take. Women are the best entrepreneurs in the Tourism sector, they are the image of their country.
#7 …And what about the challenges?
There are many challenges with some touristic company having much more years of experience than me. But, as long as my concept is unique and as long as I am the only company who owns the red double-decker buses and the beautiful brand image of Citysightseeing Worldwide, I feel confident about people choice with no fear of competition.
#8 Finally, what would you say to another woman who wants to start a tourism business in Lebanon?
I would say to follow your dreams and meet your targets with no fear. If you like the tourism, you have to be passionate in order to succeed.