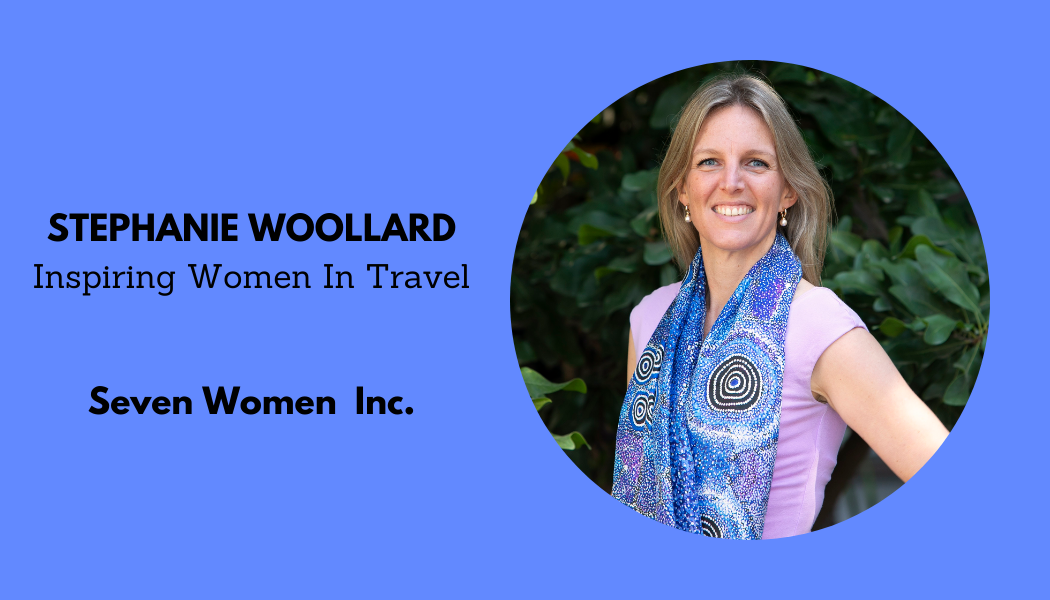 We sat down for an inspirational interview with Stephanie Woollard, Founder and CEO, of Seven Women Inc. Take a look at what she had to say!
1. What inspired you to work in the travel industry?
I was inspired to work in the travel and tourism industry when we were setting up Seven Women, our charity in Nepal, that uses businesses to educate train and employ marginalised women. Through this process, I saw a huge opportunity to harness travel as a force for good. There are many people who comment on how many tourists there are that come to Nepal for travel and purposeful tourism is on the rise where people are looking for meaningful activities where they can have an impact on the local community. I saw that as a huge opportunity to get involved in the travel and tourism industry.
2. How did you begin working in the travel industry and what was your first role?
We started Seven Women by creating a manufacturing business and exporting the products to different countries before we decided to begin working in the travel industry in Nepal. We saw cooking classes as a great opportunity to attract tourists and I started my own travel company to bring people across to Nepal in order to support the growth of our three enterprises; manufacturing, cooking school and now our Guesthouse. We then partnered with major tour operators to bring groups to Nepal to boost the local income and provide more opportunities for training and employment for our women.
3. How did you get to where you are in your career today?
A curiosity in social issues and interest to learn the local culture, as well as a great ability to listen and identify opportunities. I had, and still have, a deep seated determination to make a difference in the lives of those who were suffering from constraints that society placed on them. A good team and a great network has been a critical ingredient in the success of Seven Women and Hands on Development.
4. What attributes would help someone aspiring to your role?
Curiosity, enthusiasm to learn and a desire to make a difference.
5. Describe a typical day at work in 100 words?
Meeting different stakeholders of both the charity and the travel company and putting ideas into action with team members.
6. What is your most memorable moment working within the travel industry? 
Seeing how many of the women at the Centre have grown personally in confidence and competence levels and the way that they now interact with the tourists that visit on a daily basis. One memory was when Sandhya, who was one of our original Seven Women, broke out into pure joy and dance moves on the final day one of the women got up and danced, then the rest of the women followed which suddenly turned into a big dance concert.
7. What has been the biggest challenge you've encountered in your role and how did you overcome this?
Funnily enough, I can't think of a challenge but there have been many. I haven't seen them as challenges, I've seen them as interesting obstacles to work through. One of the most challenging has been working in a country where things are not straightforward and not easy to get done, the red tape we have had to endure to create and implement programs on the ground in Nepal has at times been quite slow and frustrating.
8. What drives you to succeed?
The vision I have always held close of a better world and my belief in people that they are essentially good.
The excitement of gathering a team of people with similar values to make things happen for the betterment of others. There is nothing more exciting and rewarding.
9. What would be your top three tips for women ho are interested in starting a career in the travel and tourism industry?
Start with how your idea will improve the world and how travel can be a force for good, both in creating more tolerance and understanding amongst travellers meeting different cultures and peoples and also by improving the local economy and impacting locals in a positive way
10. What one change could help more women become leaders in the travel industry?
Having places for women to train up in tourism and enterprises in order for them to find employment. Proper training and qualifications will help them seek out good jobs in the travel and tourism industry.
11. How do you relax when not working?
My life and my work I see as one which is a mixture between relaxing and working with amazing people that I get to meet in my job and  the places I go are incredible. I am forever grateful for the amazing life I have.