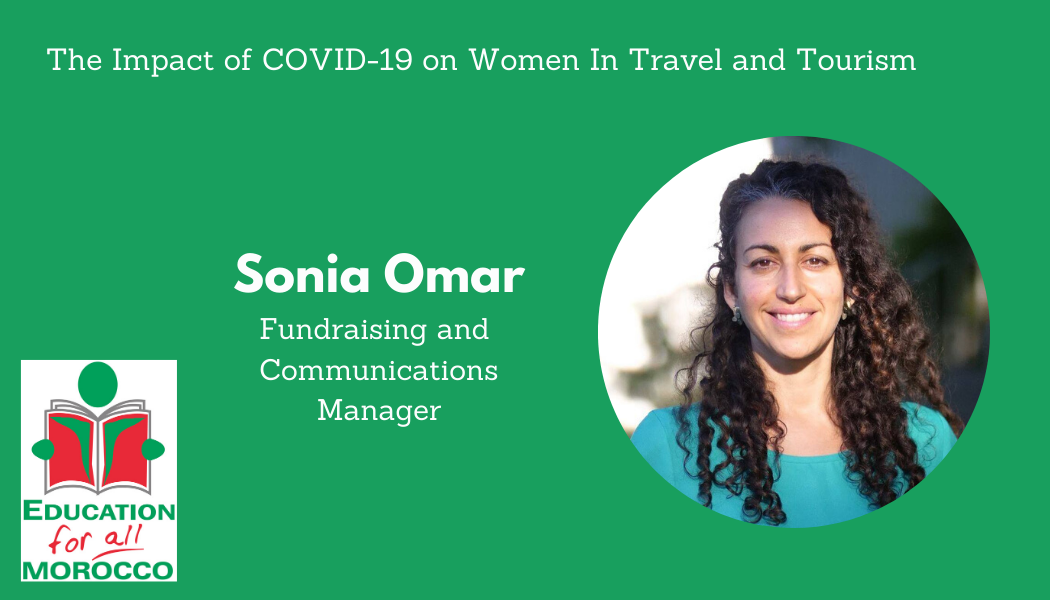 As many of you may know this week kickstarted a series of 3 webinars, on the 21st May, focused on the impact of COVID-19 on women in travel and tourism. For this weeks webinar, Sonia Omar from Education For All Morocco, joined us to discuss the impacts of COVID-19 and how they have adjusted. We had the opportunity to sit down with Sonia, and get to learn a little more in depth about Education For All, Sonia herself, and how they are truly making an impact.
What is Education For All, and what do you do?
EFA is a Moroccan/UK NGO which is providing access to education for girls in the remotest, poorest villages in the High Atlas region of Morocco. In this area, illiteracy rates for women and girls is as high as 70%, mainly due to the families living too far away from the schools and not being able to afford transport. Since 2007, EFA has been building and running safe, well equipped and locally run girls boarding houses, to bring them closer to the schools and also provide the necessary support and provisions so they can thrive. The houses are a 'home from home' where the girls receive 3 nutritious meals a day, uniforms, sanitary provision, computers, libraries, academic support and also pastoral care from loving house mothers. In this way, as well as accessing the local schools nearby, they receive lots of support to broaden their horizons and reach their full potential. The results speak for themselves- we had a 100% pass rate for the baccalaureate exam in 2019 (almost double the national average) saw 3 girls awarded full scholarships for SIST University in Casablanca, and now have 2 girls who were accepted to study their Master's degrees! For girls from poor communities where their mothers and gradmothers are illiterate, this is a huge shift and helps to end the cycle of illiteracy and poverty as well as transforming their entire community. That's why our motto is, "if you educate a girl, you educate the next generation."
What inspired you to get involved with Education For All
I was always passionate about human rights and was active as a student for organisations like Amnesty International. I later worked for Amnesty International's headquarters – both in their campaigns and education department – where I learned a lot about the cycle of change and also the discrimination issues faced by women worldwide. I knew about EFA due to knowing one of their founders, Mike McHugo, when I started running school trips in Morocco for his Moroccan travel company. I was really inspired that he had set up this charity offering a simple solution to a huge problem, and knew that at one point I would like to be involved. That happened in 2013, after I had taken a career break to start a more digitally nomadic life. I began working for EFA part-time, fully remote, as a fundraiser. EFA was growing and until then had no paid staff other than the local women who ran the houses. They needed the extra support and I feel very honoured to have been given the chance to be involved. EFA is like a family, and getting to know the house mothers and girls has changed my life. I have learned so much from them about their strength, determination and courage to live a different life than their mothers. Some had to really struggle with their families for that chance. It was so new, and required trust on the community's side. Now we have that trust, and the attitudes in their communities have shifted completely. The families and communities feel proud of EFA and many say how the project has benefited their communities. Daughters going to University, getting jobs and acquiring knowledge is something that benefits everyone. This is where lasting change happens. 
How has COVID-19 had an impact on you, and the work, that Education For All does?
The main impact has been the closure of the EFA houses. The girls have had to return to their villages at the most crucial time of their school year, with little or no access to the online lessons due to the fact that they don't have devices nor can their families afford internet connection. Covid has revealed the digital divide in terms of access to learning, and EFA was quick to act! We fundraised to buy tablets, sim cards and internet data for the final year BAC girls and distributed them last week to the girls in their villages. It was an emotional time for the house mothers, to see the girls again and hear how hard it has been for the girls to be cut off from their education, how much they missed being at the EFA houses and their worries for the upcoming exams. They were delighted with the tablets, and many said that they finally have some hope to pass their exams! 
It has been an interesting time for us, considering not only how important the EFA houses are to the girls' ability to concentrate on their studies and have access to learning tools, but also how we now need to consider how they can be included in the digital world which is so essential for this time. They deserve to be able to access all that is available online to support their learning, especially when back home in their villages, and also to empower their own self-learning and confidence with technology which, as we know, is essential for getting decent jobs.
What attributes would help someone aspiring to your role?
Passion:
I think a passion for the organisation's mission and vision is key as that will drive you forward and help you to connect with donors and supporters in a genuine way. 
Experience
Experience is of course helpful, as are the skills which are not directly related to the job but can be easily transferred. Knowing how to use social media, for example, is just as vital for fundraising as researching, because if you cannot communicate the spirit of the organisation, you will not inspire people to support you financially.
Story-Teller
Being a good story teller is so important for fundraising, as it is the stories which engage people's emotions, inspiration and generosity; and having an eye for powerful images as they can tell a whole story without any words. 
Gratitude
It's important to share gratitude with your supporters – whether they give a lot of money, or a little; even those who don't give at all give in other ways, such as raising awareness. So an attitude of gratitude is key. 
Languages
In my job, knowing French and Arabic is also helpful, but more for connecting with the house mothers and girls when I visit. However I think that knowing the basics of a language connected to your work can open many worlds and help build meaningful relationships.
Finance Catalyst
One insight I had was that a fundraiser isn't just someone who asks for money; they are someone who supports people to enjoy giving and understand its impact. Sometimes I like to think of myself as a finance catalyst, someone who finds and guides funds where they are needed.
Courage and Trust
A lot of emotions can come up when 'asking' for money – for example feeling embarrassed to be asking for too much, or the guilt that maybe people don't have enough money to give. I have seen that the thoughts about fundraising don't match the reality. People love to give! So being courageous and trusting that people really want to give, and that you can support them, is key. 
Describe a typical day at work in 100 words?
A typical day for me is answering emails in the EFA inbox, checking our campaigns, planning the stories for social media, communciating with our key donors and supporters, writing- up core planning documents such as our Fundraising and Comms srategy or other documents which we send out to our supporters. I also liaise with my colleagues (mostly remotely) and touch in with the house mothers a few days of the week. The last 3 months have been very focussed on the impact of the Coronavirus and how to support the girls during lockdown in their very remote villages. I have enjoyed being in contact with the girls, they always inspire me so much.
What is your most memorable moment working at Education For All?
One of my most memorable moments (and there are many) was being at one of the EFA boarding houses when a young woman came into the courtyard asking for the house mother. Her name was Fatima and she had been at that house before passing her final exams and going to University. She had just been invited to study for her Master's degree, and had come to ask for 'Aunty's'  (the House Mother's) blessing. I was touched by that for so many reasons – her humility, her bond with the house mother, her academic success which without the EFA houses would never have been possible due to where she lived. In that moment I saw the whole cycle of change that EFA was bringing about and it filled me with pride to be a part of it as well as hope and excitement for the future of girls' education in Morocco and the whole world. 
What has been the biggest challenge you've encountered in your role and how did you overcome this?
So far there haven't been so many challenges. There were definitely years in the beginning when the fundraising wasn't so successful, however I realised that it took time to build our communications work and grow trust with our support bases and grow new ones. I also learned how to fundraise in a smarter way, automate more aspects of the work and also get some help from volunteers and interns who bring a lot of new knowledge. I feel lucky to work with an amazing team of dedicated individuals who are very solution focussed and have a good sense of discernment, which brings trust if difficult times do come up.
What drives you to succeed?
My passion for a peaceful, fair and prosperous world is what drives me. I have seen injustice both directly and around me and was sensitive to it as a child. It never made sense to me and I knew it was possible to support everyone to have what they need and make the world safe and enjoyable for everyone. So the vision of that young girl drives me, and when I see first hand the girls at EFA, how they share, support one another and appreciate all the opportunities given to them, I see the potential coming alive right now and that drives me to do whatever I can to make EFA successful. To be part of something that is transforming these girls lives irreversibly is very satisfying. Women and girls are key to development, economic stability, health and peace in the world and all they need is a choice and a chance to contirbute the many skills they have. EFA brings these skills out and gives the girls the wings they need to fly. 
What one change could help more women become leaders in their industry?
Education. In too many countries and cultures, women face obstacles in education. For our girls, it's living in remote areas and facing poverty. This has shaped years of attitudes which have not prioritised education. With investment in education, we can take these obstacles away and create a new cycle of empowerment that grows with each generation. Educated women bring so many benefits to society. So let's invest in education, and let's invest in women and girls, to address the imbalance that has been holding our world back for too long!
You can also check out the slides Sonia used in her presentation discussing Education For All Morocco, and the impacts of COVID-19 HERE!