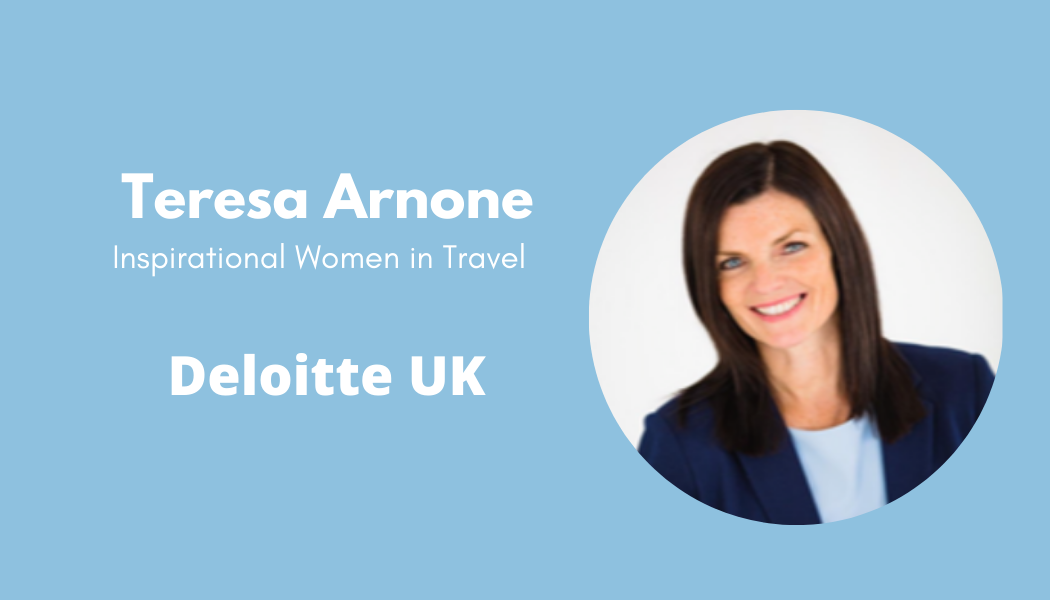 We sat down for an inspirational interview with Teresa Arnone, Health, Safety and Environment Manager (Risk Advisory) at Deloitte UK.
1. What inspired you to work in the travel industry?
The opportunity to travel the world and experience other cultures was what first attracted me.
2. How did you begin working in the industry and what was your first role?
My first role was as a hotel management trainee in a five star hotel in Cyprus. This gave me invaluable first hand insight into hotel operations and I knew straightaway that the travel industry was right for me. Upon graduating, I was fortunate enough to have three potential career opportunities open to me:  a role in a hotel chain in the USA, a career in aviation, or a role in Europe for a mass market tour operator. I chose the tour operations role and this was the career path that led to me spending ten years in overseas operations.
3. How did you get to where you are in your career today?
A relentless drive to succeed and make an impact, combined with my passion for everything the industry has to offer.  The ability to see the bigger picture and willingness to say 'yes' to every opportunity has also been important.
Visionary leaders and companies with purpose continue to inspire me.  My current role in risk advisory gives me the opportunity to support the travel, tourism and hospitality industry, to see risk as an opportunity and to have a dynamic, proactive and data driven approach to risk management.
4.What attributes would help someone aspiring to your role?
Passion, determination and resilience are three key attributes that enable me to help clients implement solutions to problems and respond to fast-paced change quickly.
5. Describe a typical day at work in 100 words?
There is no such thing as a typical day in the travel industry! At one moment you could be helping clients with their sustainable tourism strategy and in the next you could be developing innovative technological solutions to business challenges. I am of the view that in this fast-paced world of big data and analytical tools, the travel industry needs to embrace change and think bigger.
6. What is your most memorable moment working within the travel industry? 
There are so many memorable moments, from flying to 29 countries in one year, to delivering health and safety seminars all over the world, to visiting new destinations ahead of aircraft being chartered.  One highlight I will never forget is sliding down a Boeing 747 escape slide at a cabin crew training event.
7. What has been the biggest challenge you've encountered in your role and how did you overcome this?
Having to re-focus quickly after the collapse of Thomas Cook, supporting others and re-setting my career path.  It was a difficult time not only for me but also for thousands of colleagues, suppliers and for those loyal customers and the public who showed their support. I learned that challenges are opportunities to come back stronger and more determined than ever, and it was an experience that has strengthened my determination to succeed and make an impact.
8. What drives you to succeed?
I want to make a positive impact on the travel industry by driving up standards in health, safety, security and sustainability.
9. What would be your top three tips for women who are interested in starting a career in the travel and tourism industry?
Firstly, you need to be clear about your vision and goals and how you can make an impact.
Second, seek out those who have the 'vision' and can see the bigger picture and what you want to achieve.
Thirdly, believe in yourself and your ability, never undersell yourself and aim as high as you can. If you have the passion and the vision anything is possible.
10. What one change could help more women become leaders in the travel industry?
There are not enough female leaders in Travel and Tourism.  The industry is losing out and needs to proactively develop leadership training specifically for women.
11. How do you relax when not working?
I love to relax through reading, hiking with my dog and, of course, going on holiday!
I've always wanted to go to Iceland to see the Northern Lights.