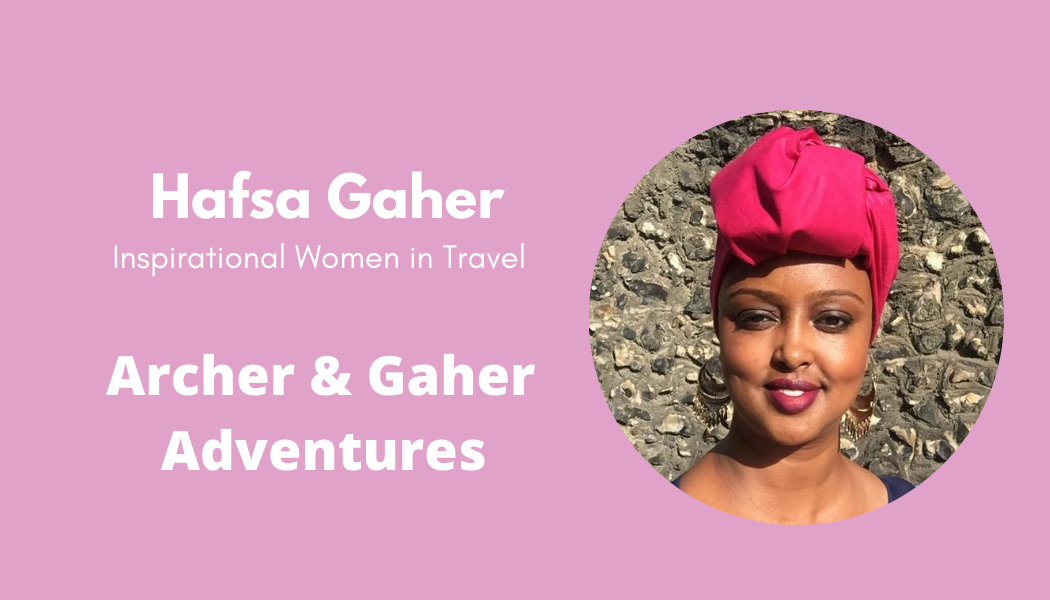 For this weeks Inspirational Women in Travel we sat down to have a chat with Co-Founder and Director of Archer & Gaher Adventures, Hafsa Gaher. Take a look at how she has been coping with COVID-19 and what  her day to day is like!
1. What is Archer & Gaher Adventures, and what do you do?
Archer & Gaher Adventures is a UK based tour operator which specialises in providing tailor-made holidays, particularly within Africa, the Middle East and islands in the Indian Ocean. As founder and director of the company, I am involved at all levels to make sure that our services match or exceed our clients' dreams. I build experiences with our partners around the world, promote the road less travelled to provide sustainable tourism and work with our clients to create bespoke travel experiences to inspire their next adventure.
2. What inspired you to start Archer & Gaher Adventures?
At the core of the business is my love of travel and of new experiences. I always look for something different when I am on holiday and wanted to be able to provide that joy and adventure for other people. I previously owned a retail business called Tausii which focused on African art and accessories and found that it was the stories and cultures that really resonated with my customers. Many asked how they can travel to these places and immerse themselves in these cultures so I started arranging tours, especially in those East African countries that I knew so well. So, I wanted to take it one step further and create tailored, inclusive travel experiences from the moment you book to the moment you get home and that mantra is what I strive to achieve with every client.
3. How did you get to where you are in your career today?
I think that my career is a journey in itself and even though I am a director of Archer & Gaher Adventures, I feel that I am only part of the way along. I have picked up skills and experiences from everyone I have worked with, but I know what I want, I am driven and I come from a family of entrepreneurs and business owners so that passion to succeed is in my blood. I am excited to see how this career unfolds because I feel like I've only scratched the surface in a travel industry which is still evolving.
4. What attributes would help someone aspiring to create their own company and brand?
There are several major attributes that would help a lot. The first one is to have a vision of what you are looking to create. The landscape can change around you but you need to be able to see your goals on the horizon and map out how to get there. When you have decided on your vision, you need to go for it. I have always been decisive (sometimes too decisive) but being able to make the decision when it is the right time to jump in is crucial.
Otherwise a lot of creating a business comes down to a balance between determination to keep going and being faithful to your vision and to yourself (as that authenticity will always shine through), and adaptability to learn and evolve in how you get there because it is rarely as simple as you think it will be.
5. Describe a typical day at work in 100 words?
Well a 'typical day' is different since the pandemic. The situation is ever-changing so I am always updating clients and making sure that they are protected against any eventuality.
A typical day for me starts the previous night where I plan for the coming day. Now that I am looking forward to 2021 holidays and beyond, my day combines online meetings with partners around the world with evolving our marketing strategies to promote ourselves as a trusted authority beyond our current reach. I meet with colleagues to remain aware of individual issues but I always save some time in the evening to reflect on the day and plan for tomorrow.
6. What is your most memorable moment creating Archer & Gaher Adventures?
Many business owners will tell you that the most memorable moment of creating a company is when you make that first sale and that's exactly what is was for me. All of the abstract concepts and hours that I put in came together in one moment and it made it feel very real. The inevitable ridiculous victory dance that followed is a happy memory too.
7. What has been the biggest challenge you have encountered during the process of creating the company?
I think my biggest challenge was finding out which marketing platforms worked best for the company. I based so much of the business on building a holiday around the client, and different clients responded to different marketing campaigns. Even with all the research in the world, a certain amount of getting that balance right is through trial and error. I spent time and resources on things that yielded no return but it helped me to focus on those areas that were profitable and put more into those moving forward.
8. How has COVID-19 affected Archer & Gaher Adventures, and how have you adapted and responded to the challenges?
COVID-19 has affected the whole travel industry in that for many, travel is just not an option this year. For us, it has been an opportunity to assess what we have done well in the past and where we can improve. Once we got all of our clients home safely and engaged with those who were struggling, I reviewed our booking and cancellation policies to make sure that we could be flexible and adapt to our clients' needs.
I have been giving free advice on different social media groups and have also set up a free consultation hotline for anyone who is concerned about their travel plans.
I have also been championing inclusive travel within the industry and have co-created the Halal Travel Network, which is a platform to support tourism professionals promoting Halal-friendly travel around the world.  The network aims to bring inclusive travel into the mainstream and be a community for support and inspiring new ideas. I have set up platforms on social media as well as a landing page and welcome involvement from: travel agents, hoteliers, DMCs, tourism boards, journalists, bloggers and other roles in the tourism industry.
9. What drives you to succeed?
What I am trying to achieve has always been driven by a desire to create something and to bring joy to others. I want my legacy to affect the way people travel, to make their experiences more immersive and connect with local cultures. Tourism has the ability to bring about positive change through sustainability, inclusivity and acceptance of others.
10. What would be your top three tips for women who are interested in working in your field?
Believe in yourself and in your vision
Find your niche and make sure it is something that you buy into
Join with like-minded professionals in support networks such as Women in Travel. Once you have found them, engage with them openly and honestly because you only get out what you put in.
11. What one change could help more women become leaders in their industry?
The world is more accessible than ever and I believe it is our responsibility to promote other women through mentoring, publicity and support. We have to be visible in our successes to inspire others, accountable for our mistakes so they can learn from us and available when they are starting out to help them grow into the leaders of tomorrow.
12. How do you relax when not working?
I love to learn about other cultures and put this at the heart of our travel experiences as it is the interaction with people that really brings the world to life. I love taking long walks and taking photos of my surroundings at different times of the day and planning or thinking about my next trip always makes me relaxed and gives me something to look forward to.