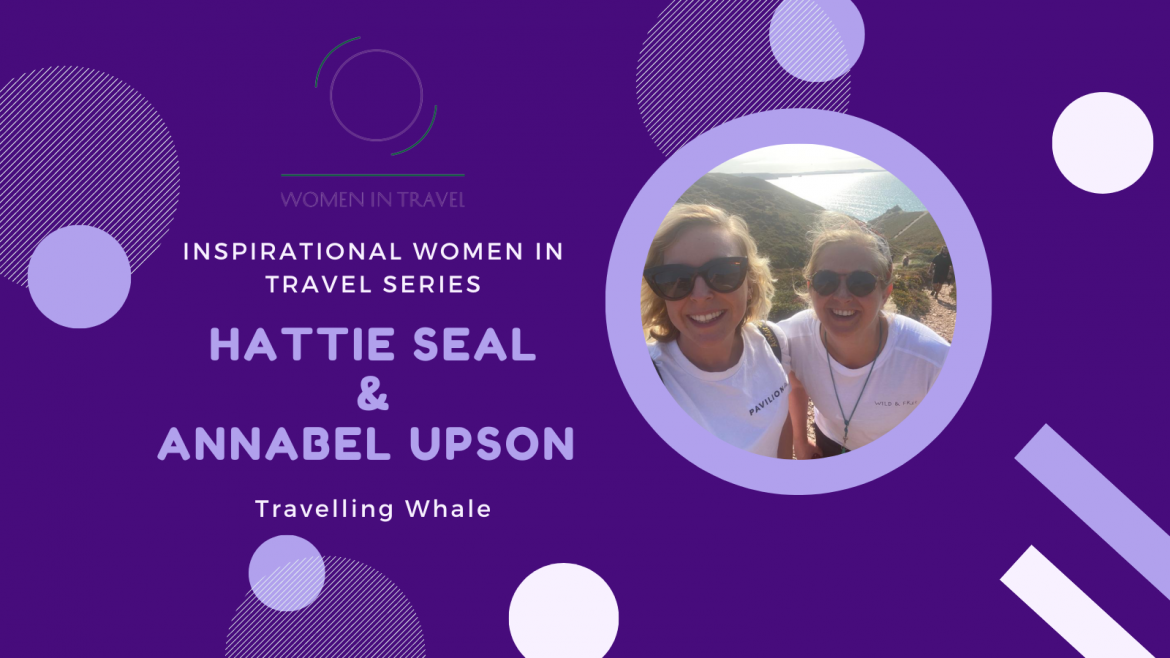 For this weeks Inspirational Women in Travel blog, we sat down to have a chat with Hattie Seal and Annabel Upson, Co-founders of Travelling Whale. Take a look at what they had to say:
1. What is Travelling Whale, and what do you do?
Travelling Whale is a female-founded online travel agency based in the UK focused on locally sourced sustainable adventures. We offer bespoke tailor-made travel services and small group tours. Our priority is to deliver personalised adventures so that our travellers can have the best time away from home, travelling more sustainably along the way.  As for our name, we also support Great Whales by donating 1% of our profits to the Hebridean Whale and Dolphin Trust in the collective quest to protect the plant. Did you know? When it comes to saving the planet, one Whale is worth thousands of trees.
2. What inspired you to start Travelling Whale?
We were inspired to start Travelling Whale by our passion for travel and our own extensive travel experiences. We also wanted to demonstrate that it is possible to travel better. We talked about it for a long time, and there never seemed to be the right opportunity, due to job opportunities, travel adventures and a hiccup with Cancer. We never expected a redundancy because of COVID-19 would be the push needed to start pursuing our passion.
3. How did you get to where you are in your career today?
Passion and drive have played a crucial role in developing our careers to start our own company. After an 18 month round the world trip, Hattie dived straight into the travel industry working her way up to Sales Manager over five years. Annabel worked in various roles, including building businesses in the financial services industry, planning holidays as a travel consultant and raising funds as a fundraising event manager in the charity sector.  She also took time to adventure around the world in a 9-month trip. Our combined career history has really helped to shape and develop Travelling Whale.
4. What attributes would help someone aspiring to create their own company and brand?
The most important thing is passion and belief in what you are doing – this will always shine through when you're talking about your business. It's important to continue to learn and adapt as your company develops. The biggest value is learning from people in the industry and not being afraid to ask for help.
5. Describe a typical day at work in 100 words?
All our days start with a video meeting, so we can go over what we'd like to accomplish for the day, keep motivated and divide the tasks. We then spend time answering any emails that have come through, talking to clients and updating the website. No two days are the same for us, and we are continually learning or coming up with new ideas. Whether it's planning our social media for the week, an online video meeting with a supplier or attending webinars, there is always something to keep us on our toes.
6. What is your most memorable moment creating Travelling Whale?
Our most memorable moment creating Travelling Whale was when we launched the website. We spent a whole week living together and working continuously right up until our launch. Due to lockdown, we weren't able to have a launch party, but we celebrated in Annabel's garden with a few glasses of bubbly. This was a very proud moment for us.
7. What has been the biggest challenge you have encountered during the process of creating the company?
The biggest challenge we encountered setting up Travelling Whale was realising how much there was to do and learn. We decided from the start that as strong independent women, we wanted to do everything ourselves – from designing the logo, building the website and creating the tailor-made itineraries. We reached out to industry experts for advice and took lots of time to make sure everything worked smoothly, but we both gained invaluable skills and knowledge. We are continually learning new things, and we love the fact that we both understand every aspect of Travelling Whale.
8. How has COVID-19 affected Travelling Whale, and how have you adapted and responded to the challenges?
The positives have been that when the world came to a grinding halt, it gave people the chance to really think about climate change and what alterations they can make to their lives. We noticed an increase in people talking about sustainable/regenerative travel and what it can achieve. It also gave us time to really talk to our suppliers and build unique itineraries.
The negative effects have been that people aren't travelling as much due to COVID-19. We have responded to the challenge by focusing our efforts on developing our company presence on social media. We have been inspiring our clients by talking about positive changes globally and encouraging bookings for later in the year. We are here to support our clients whenever they need us and offer full financial protection and flexible bookings so that they can have peace of mind when they book a trip.
9. What drives you to succeed?
We want to make travel a force for good. We truly believe that we can achieve this by helping travellers take small steps in the right direction (small ripples make big waves) and helping to shape the travel industry. We also donate 1% of our profits to the Hebridean Whale and Dolphin Trust, which drives us to do better as it means our partner charity also benefits.
10. What would be your top three tips for women who are interested in working in your field?
The first tip would be to have a passion for what you're doing and make sure that you believe in yourself and what you are trying to accomplish.
Our second tip would be to stay optimistic; the travel industry is hard but rewarding. You can help turn dreams into reality, but not every sale will be successful, so it's important to be positive.
Our third tip would be to have a clear development path so you can see where you are now and what you're working towards. We also recommend taking any training that is offered.
11. What one change could help more women become leaders in their industry?
Government initiatives that encourage companies to invest in women and extra leadership training programmes that support development. More female leaders are needed in the Travel Industry.
(We were shocked to find few travel companies owned by women in the UK)
12. How do you relax when not working?
We both love to take long dog walks in the countryside or at the beach. We spend our weekend exploring new places (when we can), trying out new restaurants and supporting local businesses.