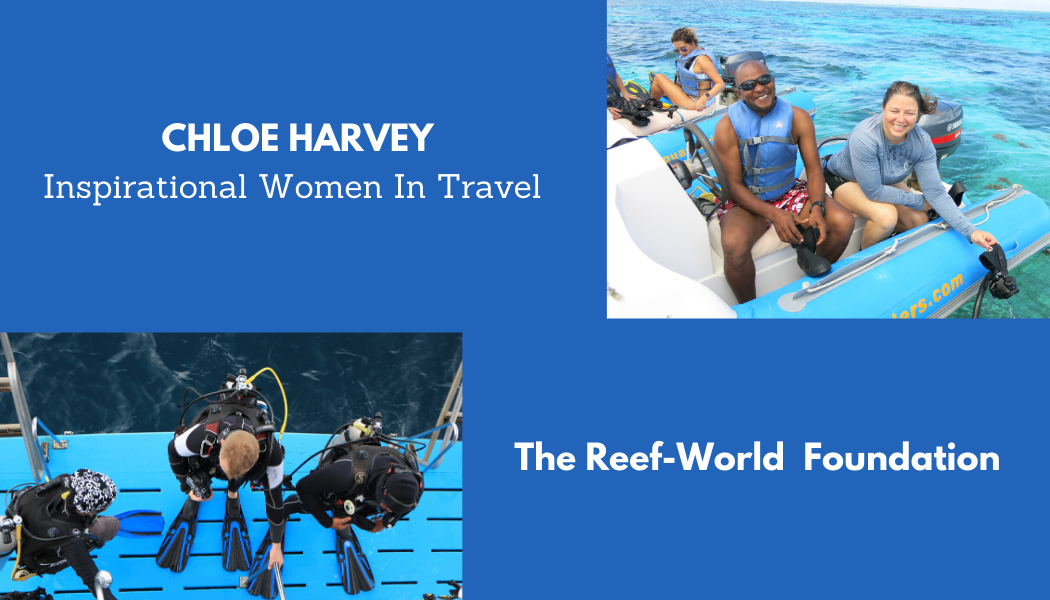 For this inspirational blog we sat down with Chloe Harvey, Director, at The Reef-World Foundation. Chloe tells us about her experiences, and what motivated her to get to where she is currently. Look at what she had to say!
1. What is The Reef-World Foundation and what do you do?
The Reef-World Foundation is a registered UK charity which delivers practical solutions for marine conservation around the world. Reef-World leads the global implementation of the UN Environment's Green Fins initiative, which focuses on driving environmentally friendly scuba diving and snorkelling practices across the industry globally. By reducing the local direct and indirect pressures tourism puts on coral reefs, it helps make corals healthier and more resilient to other stresses such as the effects of climate change.
2. What inspired you to get involved with Reef-World?
Well, I've been diving since the age of 12 when my family went to Egypt on holiday and got our scuba diving certification in the Red Sea. It was fantastic – I was absolutely hooked from the first time I went underwater and some of the best times of my life were spent diving with my dad and sister around the UK coastline. I've been passionate about the underwater world ever since.
By the time I went to university, I'd discovered you could learn even more about what was going on under the water by studying marine biology so chose that as my degree. It's also how I met my now husband and co-director of Reef-World JJ; he was also studying marine biology at Newcastle. After graduation, I was dead set on working in genetics but, before dedicating myself to the lab, JJ and I decided to visit Asia for a short time to get some tropical marine biology experience under our belt and qualify as Dive Masters.
At the end of our trip, before heading back to the UK, we visited the Phuket Marine Biological Centre to see if we could volunteer for two weeks. That's where we met K. Niphon Phongsuwan who is one of the top coral reef scientists in Thailand and had launched the Green Fins initiative in partnership with the UN Environment. He explained that we would need to stay for six months to be able to help out with the programme. When we did our research, we were blown away to find there were no other international environmental standards for the diving and snorkelling industry. That's when we realised how special and unique the programme was and agreed to stay on. Six months of volunteering became two years! After this time, we met Anne Paranjoti (née Miller) who founded The Reef-World Foundation. Anne was a pioneer within the local diving industry because she was running environmental courses for tourists (although these are very popular now, they were unusual at the time). She was ready to leave Asia and move back to the UK and was looking for someone to hand the baton over to – and, with a stroke of luck, JJ and I became the people she handed the charity over to. Now, Reef-World operates on a global scale with Green Fins active in 10 (soon to be 11) countries – it's been quite a journey!
3. How did you get to where you are in your career today?
A little bit of luck, a lot of determination, hard work and a solid support network. When we started out, we were just 23-year old marine biologists wanting to do something good for the world. But JJ and I have found some real champions along the way that have been willing to stick their neck out for the environment and help us in our journey. That really has made all the difference.
4. What attributes would help someone aspiring to your role?
Dedication. Perseverance. A good work ethic. Dive industry experience. And, of course, a passion for the ocean and marine conservation.
5. Describe a typical day at work in 100 words?
Truly, every day is different. Fieldwork involves training staff from governments and NGOs how to run Green Fins in their country. As well as making sure their scuba skills are up to scratch, this also involves environmental training and running assessments of dive centres with them. On days in the office, I'm desk-based in our Bristol office; working with the team and our partners on planning, budgets, logistics and all the back-end admin involved in running a small charity with big ambitions.
6. What is your most memorable moment working at the Reef-World Foundation?
There are so many to choose from that it's hard to pick just one example – but here goes… In 2008, we worked intensively with the diving industry in Koh Phi Phi, Thailand. In two weeks we had assessed the environmental performance of 20 dive centres, provided practical solutions to some of
their biggest everyday challenges and trained their staff how follow the Green Fins Code of Conduct. On our final morning, we stood with our backpacks on waiting for our ferry and watched the dive boats motoring out of the bay heading for the dive sites. Each of the boats of the dive centres we'd worked with were proudly flying their Green Fins flags and the sky seemed to be peppered with the logo. It truly was a satisfying and humbling moment. Since then, JJ and I have made a point of watching the boats motor in or out of many a harbour, pier and bay in each of the locations we have worked in and revelled in the sea of Green Fins flags as a display of the fruits of our labour.
7. What has been the biggest challenge you've encountered in your role and how did you overcome this?
During our time with Reef-World, we've come up against many challenges (as you might expect, securing sustainable funding is often one of them).
At the start of our journey, a huge challenge was persuading governments of the benefits of implementing Green Fins in their country. As we didn't have the success stories behind us that we have today, it was hard to provide case studies or put them in touch with counterparts who could explain the benefits to them. Communicating the benefits of the programme to them in the right language (and I mean government lingo as well as the actual language) was also a struggle we had to get used to in the early days. As time has gone on and Green Fins has proved successful in 10 destinations around the world, those challenges have become much easier or have been taken out of our hands.
8. What drives you to succeed?
As a diver, seeing first-hand how beautiful our oceans are, and how easily they can be damaged by human impacts, is what drives me to continue my work with Reef-World. The Green Fins initiative has been proven to reduce the negative impacts of dive centres over time and seeing these successes – that our work is having a tangible impact on the protection of coral reefs and related marine life – is hugely motivating for me.
9. What would be your top three tips for women who are interested in working in your field?
Find a good way of remembering people's names and contact details; it's not what you know, it's who you know. Don't be scared to say I don't know but I'll find out for you (and always make sure you follow up!); being honest and trustworthy is a bonus in today's climate of fake news and misleading leadership. If you end up spending lots of time driving motorbikes around in the sun, always apply a (reef-safe) factor 50 sunscreen to the backs of your hands!
10. What one change could help more women become leaders in their industry?
For us all to listen more. To quote the Dalai Lama "When you talk, you are only repeating what you already know. But if you listen, you may learn something new."
11. How do you relax when not working?
Relax, what's that?! Running a small charity and being a new mother keeps me pretty busy! But, jokes aside, in my spare time I love spending time with my family: JJ and our daughter Olivia. When I have the time, I love to go paddle boarding, surfing, snorkelling and, of course, diving too – even though scuba diving is part of my job, I still relish any time I can get underwater.