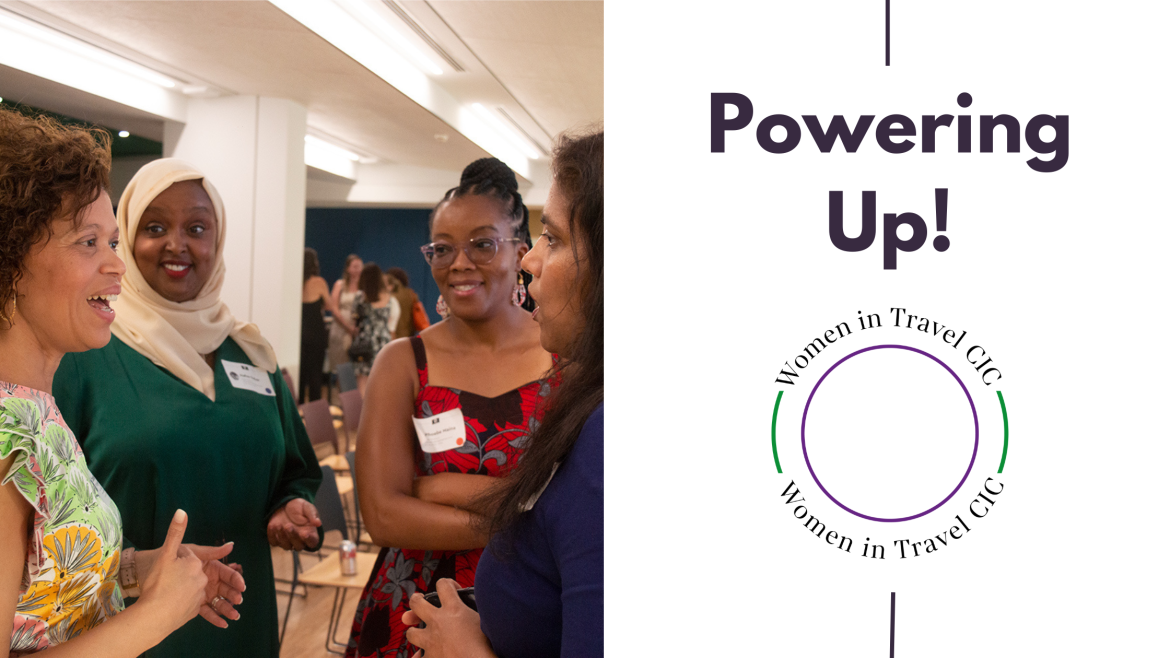 TTH have always prided themselves on showcasing a diverse array of passengers and destinations, each with their unique stories, attributes, and mix of diverse world's wonders. It's troubling therefore that these sectors remain an arena where women's potential and opportunities are far from fully maximised.
The McKinsey Women in the Workplace Report (2023) which serves as the backdrop for our reflection, offers a sobering look at the current state of women's employment. It not only highlights the extent of the gender gap but also brings forth the pressing need for a shift in perspective, policy, and practice. It's a call to action, a challenge to create a more inclusive and equitable space for all women. In this piece, we briefly delve into the disparities that persist, explore the immense potential that can be unlocked by embracing diversity, and, most importantly, highlight the work we do at Women in Travel CIC to create a more equal and inclusive future in Travel, Tourism and Hospitality industries. 
Gender Disparities Exist Globally and can be summed up as follows:
Underrepresentation in Leadership Roles

: According to the Women in the Workplace Report (McKinsey 2023), women face an uphill battle when it comes to climbing the corporate ladder. Leadership positions, those that steer the direction of organizations and make strategic decisions, remain disproportionately occupied by men. Only 28% of C-suite executives in the business are female, according to McKinsey statistics, while 80% of women aspire to advance to the next level, up from 70% in 2019. Early-career Black women continue to lag behind in terms of progress. Black women's promotion rates have dropped to 2018 levels, with only 54 Black women promoted for every 100 men this year after climbing to a high of 96 Black women promoted for every 100 men in 2020 and 2021 (presumably as a result of increased focus throughout corporate America). 
Workplace Discrimination

: Workplace discrimination, though increasingly recognized and condemned, is still an issue in these industries. Women often face gender-based bias, harassment, and unfair treatment, which can hinder their professional growth and personal well-being. According to the McKinsey report, many women—especially those with traditionally marginalized identities—find the workplace to be a mental minefield. It is far less common for women to feel psychologically comfortable after experiencing microaggressions, which makes it more difficult for them to take chances, put forth novel ideas, or voice concerns. In addition, LGBTQ+ women are 2.5 times more likely to experience pressure to alter their looks in order to project a more polished image.  
Women's views, experiences, and perspectives are frequently disregarded in this circle of inequity, which stifles the possibility of advancement and creativity. 
The Role of Diversity, Equity, and Inclusion (DEI) 
Diversity, equity, and inclusion (DEI) are at the heart of a thriving and forward-thinking workplace. In the context of the Travel, Tourism, and Hospitality industry, DEI plays a pivotal role in shaping a more equitable, innovative, and competitive landscape. 
Why DEI is Essential: At its core, DEI signifies a commitment to recognizing and valuing the unique perspectives, backgrounds, and experiences of every individual within an organization. It is about creating a workplace that not only reflects the diverse customer base this industry serves but also fosters an environment where every employee feels valued and has equal opportunities to succeed.
When it comes to acquiring and retaining a Diverse Workforce in Travel, Tourism, and Hospitality, here are some of the most immediate benefits:
Improved Customer Service

: In our industries that revolve around delivering exceptional experiences, a diverse workforce is a treasure trove of insight and empathy. When employees come from a variety of backgrounds, they can better understand and connect with the diverse range of travellers they serve. This understanding leads to improved customer service, where individual needs are met with greater precision and cultural sensitivities are respected, ultimately enhancing the overall guest experience. 

Innovation

: From designing unique travel experiences to streamlining operations, fresh and innovative ideas are the lifeblood of this sector. A diverse workforce brings a wealth of varied perspectives, ideas, and approaches to problem-solving. In the pursuit of innovation, diverse teams have repeatedly demonstrated an ability to think creatively, challenge the status quo, and devise groundbreaking solutions that resonate with a global audience. 

Competitiveness

: Although embracing diversity should be a strategic performance matter, not a competitive issue, it is true that early adopters will enjoy a competitive edge. These companies can tap into wider talent pools, attract and retain top talent, and connect with a broader customer base. Furthermore, they are more agile and adaptable in a rapidly changing industry, making them better prepared for challenges and opportunities on a global scale. By creating an environment where all women, along with individuals from all backgrounds, can thrive and contribute, the industry positions itself to lead in an ever-evolving global landscape. 
Moving the dial from commitment to action
In the quest to transform the Travel, Tourism, and Hospitality industry into a more inclusive and equitable landscape, Women in Travel CIC serves a mission to drive positive change within the industries. More specifically, our mission is to connect underserved female talent to employment and enterprising opportunities in the sector. To employers and organisations in the industry, we also provide the wrap-around care needed to ensure that such talent is embraced and integrated into the current workforce. 
DEI Training and Consulting; Allyship and Mentoring; Talent and Employability and Events are at the heart of what we do for businesses in the UK and beyond. These activities help create a profound change in organizations within the Travel, Tourism, and Hospitality industry moving the dial forward for DEI.
Cultural Shifts Towards Inclusivity: Companies that have partnered with Women in Travel CIC, have recognized that inclusivity is not just a lofty ideal but a practical necessity for success. 
"It is so important to dedicate our resources to the mission of changing travel for the better, and empowering women in the industry is key for going about that mission. With our teammates being so knowledgeable (and passionate) about the ever-important intersection of technology and travel, WeTravel is thrilled to support the incredible Women in Travel mentees as they unlock their potential and leave their mark on this industry." WeTravel 
By promoting Alyship, mentoring, and DEI training, such organizations foster a sense of unity and cooperation among their employees, regardless of gender. 
Success Stories and Testimonials: Women who have benefited from the mentorship programs have climbed the corporate ladder, assuming leadership roles that were previously out of reach and significantly advanced with their business operations, tapping into new markets, developing core operating strategies and becoming mentors to others themselves. 
''This programme is absolutely brilliant. To be paired with someone who has so much knowledge and experience to share has given me so many practical skills and professional confidence to take my business to the next level.'' Jools Sampson, Retreat designer and business owner of Reclaim Yourself Retreats
''I have been a better woman entrepreneur since I joined the M.A.N mentoring programme. My business has grown and we have clear goals for the business.'' Phoebe Maina, Founder & CEO, Steri Tours
Our Call for Action 
We invite all employers and organisations in the sector to consider the following priorities:
Embrace Inclusive Leadership

: Business leaders in the sector have a pivotal role in setting the tone for change. Encourage leadership teams to actively promote and support gender diversity. Set goals for increased representation of Women+ in leadership roles and hold leaders accountable for achieving these goals. Allyship and mentoring are key to achieving this objective, by way of senior leaders providing guidance and support to emerging talent and empowering individuals of all genders to support and advocate for one another. 

Implement Equal Pay Policies

: To rectify the gender pay gap, businesses should conduct regular pay equity audits to identify and address disparities. Implement transparent policies that ensure equal pay for equal work and ensure that these policies are communicated clearly to all employees. 

Invest in DEI Training & initiatives

: Prioritize Diversity, Equity, and Inclusion (DEI) training and consulting to create a more inclusive work environment. DEI training helps raise awareness, mitigate unconscious biases, and fosters an environment where all employees feel respected and valued. 

 Recruit with diversity in mind.
"The time is always right to do what is right." (Martin Luther King Jr) 
Time is also always right to do what makes commercial sense for the business!  That is why we invite businesses in the Travel, Tourism, and Hospitality sectors to take action today.
There is no need to feel overwhelmed, DEI is a journey, not a destination and organisations like Women in Travel CIC exist to support your effort through simple, manageable steps. 
Please visit our website at www.womenintravelcic.com or connect with us via email at [email protected]. Your engagement, your commitment, and your action can be the catalyst for a brighter, more inclusive and more successful future in the Travel, Tourism, and Hospitality industries. 
References: 
McKinsey & Company, 2023. Women in the Workplace 2023. https://www.mckinsey.com/featured-insights/diversity-and-inclusion/women-in-the-workplace?stcr=F84BB103C930495C8D2AF0E8A2FA8773&cid=other-eml-alt-mip-mck&hlkid=4d947fb176d3456290b58ff7a5d13232&hctky=14256397&hdpid=aaca2a64-3d15-448b-814b-fe1f0b949f7e 
These references support the information presented in the opinion piece and provide a basis for the discussion of gender disparities and the importance of addressing them in the Travel, Tourism, and Hospitality industry. 
Women in Travel CIC Team
 Simona Listvanaite  & Alessandra Alonso