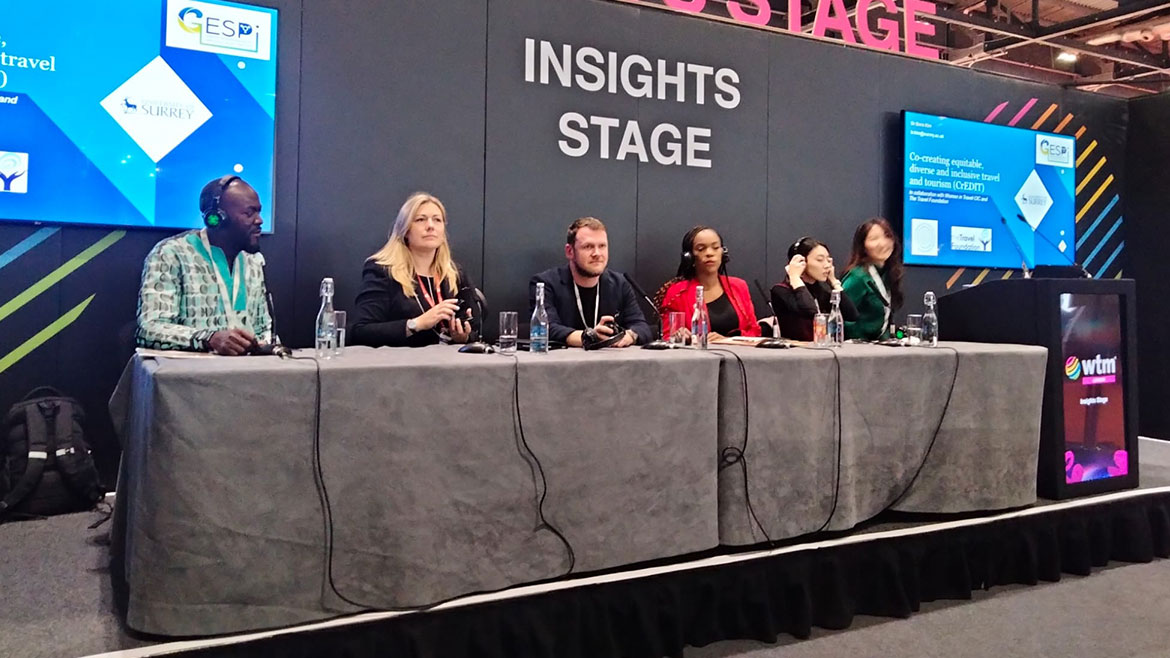 It was fantastic to be back at World Travel Market London last month, in an event that felt almost back to its pre-pandemic vibrancy. The stages were full of dynamic discussion, and stands buzzed with music, entertainment and the excitement that comes with doing business face-to-face for the first time properly in three years.
Two key subjects seemed to be high on the agenda this year – sustainability and Diversity, Equity and Inclusion. As Women in Travel CIC has long argued, the two are inextricably linked, and it was great to see open, active and passionate conversations being had on both.
In addition to being invited to join a panel on Driving Recruitment and Developing Talent, our MD and Founder Alessandra Alonso had carefully curated our annual Women in Travel Meet Up on the Wednesday afternoon, comprising a panel discussion and an interactive group mentoring session on the subject of DEI.
The session kicked off with a presentation by Dr Bora Kim, a lecturer in Hospitality Management from the University of Surrey, based on a study done in collaboration with Women in Travel CIC and The Travel Foundation. The study explored the travelling habits and attitudes of ethnically diverse communities, the fears and frustrations they experience, barriers and challenges and, most importantly, best practice and solutions.
Dr Kim was joined by a panel of experts including:
Dr Albert Kimbu, Reader and Head of Department of Tourism & Transport, University of Surrey
Jamie-Lee Abtar, Marketing Manager EMEA, Intrepid Travel
Tolene van der Merwe, Director UK & Ireland, Malta Tourism Authority
Graeme Jackson, Head of Strategic Partnership, The Travel Foundation
And the session was expertly moderated by Dr Yoo Ri Kim, Senior Lecturer, University of Surrey in the absence of Alessandra, who was unavoidably called away.
Here are some key takeaways:
Progress is being made, but there is more to do. We're seeing travel companies like Celebrity Cruises, Intrepid and Virgin Atlantic putting strategies in place and cater and market to a more diverse community, and Women in Travel CIC are helping to make these conversations more mainstream. The winds of change are blowing, but not quickly enough.
Be led by data, and have measurable targets. We need to understand the issues in order to fully address them and put together frameworks that makes sense. Once strategies are in place, they should be transparent, with progress charted and businesses held to account.
Look at it as an opportunity, not a challenge – we have a pool of talent and a potential customer base that is under-explored and under-utilised. Think of the business opportunity there is in better servicing different communities.
Collaboration and co-creation is key – DEI should not be seen as a competitive advantage. We should all be working together, sharing ideas and resources, giving each other space to learn and putting policies into action. Organisations like the Black Travel Alliance in the US have interesting research, and Women in Travel, the University of Surrey and The Travel Foundation can all share their frameworks, insights and findings.
Put DEI front and centre – DEI policies should be integral and aligned to your core business strategy and your sustainability goals. Understand how DEI is linked to climate action – you can't claim to be a sustainable business without an active plan on EDI.
Take personal responsibility – ask questions, improve your understanding, listen and learn, take part in sensitivity training, stand up for people and be an ally. Be open, honest and humble about the journey we are on together.
Be authentic – people want to see themselves represented. Nuance and context are important – we're not talking about one homogenous group and it is impossible to come up with a concept of EDI across every culture, background and circumstance. Get to know all your customers and potential customers, what appeals to them and how they want to be marketed to – and make sure they can see themselves in your content.
After the moderated session, panellists then joined audience members in small groups to share ideas, advice and best practice in a group mentoring session over refreshments provided by the Malta Tourism Authority.
Summarising the day, Jamie-Lee Abtar commented:
"There was a real energy to the resulting discussion, with important and honest questions being asked around the room. It is clear that there is a real motivation to do the right thing, and that DEI is increasingly becoming an imperative for businesses large and small, and for individuals. It was a pleasure to be part of that, and I am confident that the seeds sown here will grow. Our doors are always open for more dialogue."