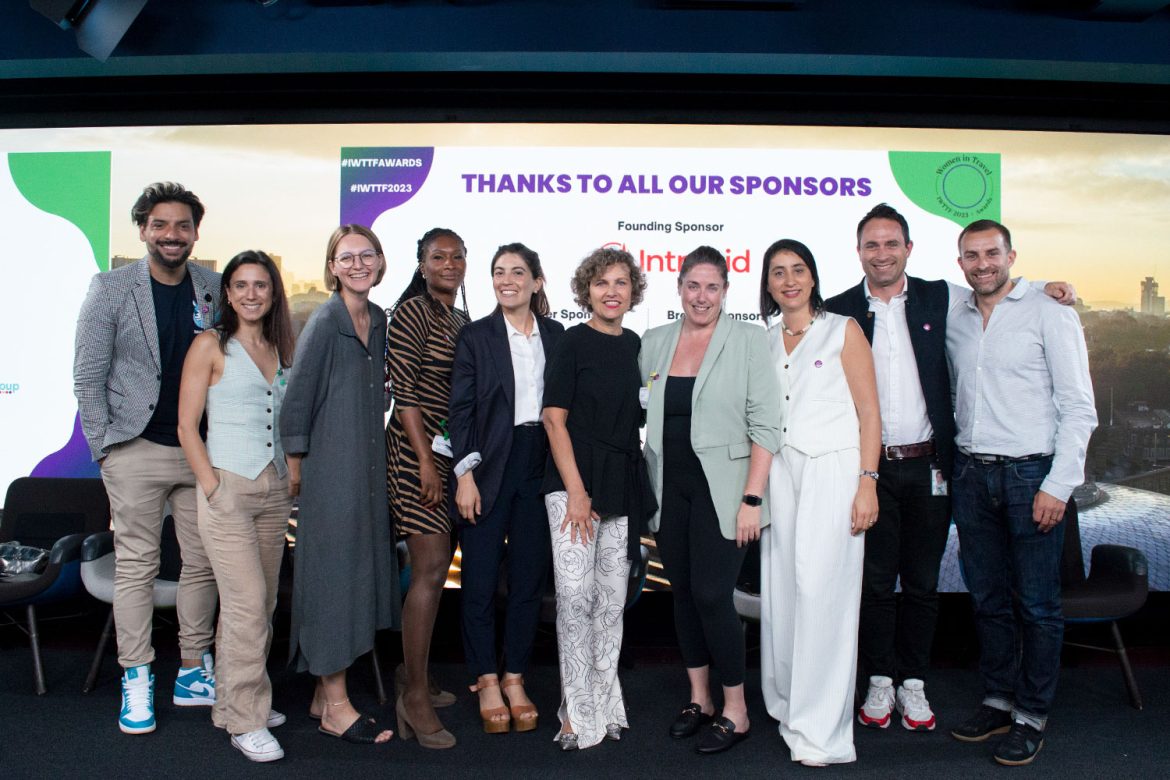 We're still riding the wave of inspiration and empowerment after the fourth annual Women in Travel CIC International Women in Travel and Tourism Forum (IWTTF) held in London last week. It was a sold-out event that celebrated the remarkable achievements of women in the travel industry while shining a light on the challenges that still need our attention.
If you couldn't make it, don't worry; we're here to give you a taste of what you missed.
A Record-Breaking Event
IWTTF 2023 was nothing short of incredible, drawing the largest crowd to date—over 400 people across two events. This year, we added something special: the first-ever IWTTF Awards evening hosted by Expedia, followed by a full day at Google HQ filled with presentations, panels, and thought-provoking discussions, all with ample time for networking in between.
Keynote Speaker Jaz Ampaw-Farr: Be Brave, Bring Joy, Add Value
A true highlight was our keynote speaker, Jaz Ampaw-Farr, who encouraged all of us to be "positive disruptors" by being "just 10 per cent braver." Her moving speech, filled with personal anecdotes and resilience, left us inspired to add value and bring joy to the travel industry, which has the power to change lives.
Neurodiversity: Talent's Final Frontier
The most talked-about sessions of the day were the two on neurodiversity. Panelists shared their lived experiences, from ADHD to autism, and how workplaces can better embrace people with neurodiversity. The key takeaway? Neurodiversity needs to be on your radar. When accommodated, neurodiverse employees can drive innovation and be more productive than neurotypical employees.
Sustainability: The Climate Crisis Is Impacting Women in Travel
Despite the challenges posed by the climate emergency, our panel of experts offered hopeful perspectives. They emphasized the need for more women educated in STEM subjects to address the climate crisis. The bottom line? Climate action must be a shared responsibility within the travel and tourism sector.
Technology: Empowering Women Entrepreneurs
Tech has been a boon for women in travel, enabling innovation and entrepreneurship. Diverse experiences have inspired women to explore niches of specific interests in travel, with much success.
DEI: On a Journey to Inclusion
Creating inclusive environments that value all individuals was a key theme throughout the conference. Companies need to make diversity a priority, look at unconscious bias in the workplace, track efforts, and lean into programs that work.
Allyship: Unveiling the Power of Allies
We presented findings from the first-ever investigation into allyship in the travel and tourism industry. The results were clear: allyship is highly valuable in the workplace. Collaboration and allyship are crucial to drive meaningful change and we are standing at the front of the industry with our Male Allyship Network Programme.
Meaningful Networking
Meeting innovative entrepreneurs and industry leaders was a highlight. The energy and passion in the room were electrifying.
In closing, Finnbar Cornwall of Google Travel summed up the day, "If I could bottle the energy in this room today, I'd have the most powerful energy drink in the world."
And in Alessandra's own words, straight after the IWTTF Awards & Forum Happened:
'This is what FEEL-GOOD Friday feels like today…
💥Waking up buzzing with emotions, ideas and possibilities for the future of Women In Travel CIC
💥Noticing that my heart is literally in my throat..it is a combination of love, gratefulness, empowerment and disbelief all mixed together!
💥Feeling exhausted and yet full of energy after what feels like a 10-month-long marathon culminating this week in the #IWTTFAwards and #IWTTF23
💥Realising that I cannot be crazy, mad or naive for doing what I do [as many people have wanted me to believe in the last 20 years] if some 400 people joined me on this journey over the last 48 hours
💥Opening LinkedIn and my feed is literally EXPLODING with other people's comments, thoughts, ideas, meetings, hugs, personal insights and so much more…
How do I begin to unpack all this?
I am not even going to try and answer this question today…
For now, I will continue to enjoy all your posts, I am grateful for this community and this industry!'  – Alessandra Alonso
This recap is just the tip of the iceberg. The Women in Travel IWTTF is an incredible experience for learning, engaging conversations, and meaningful networking. Stay tuned for more information about IWTTF 2024 in London, and follow Women in Travel CIC on LinkedIn for news and updates.
Thank you to everyone who made IWTTF 2023 a memorable event. Together, we're making a positive impact on the travel industry and beyond. Until next time, keep exploring and advocating for positive change!
Please visit our IWTTF Page and gallery to relive the conference moments here: https://www.womenintravelcic.com/iwttf/
You can now watch every panel discussion live on our YouTube channel here: https://www.youtube.com/channel/UCLrphcM8UAsCRupe5IrUKTw